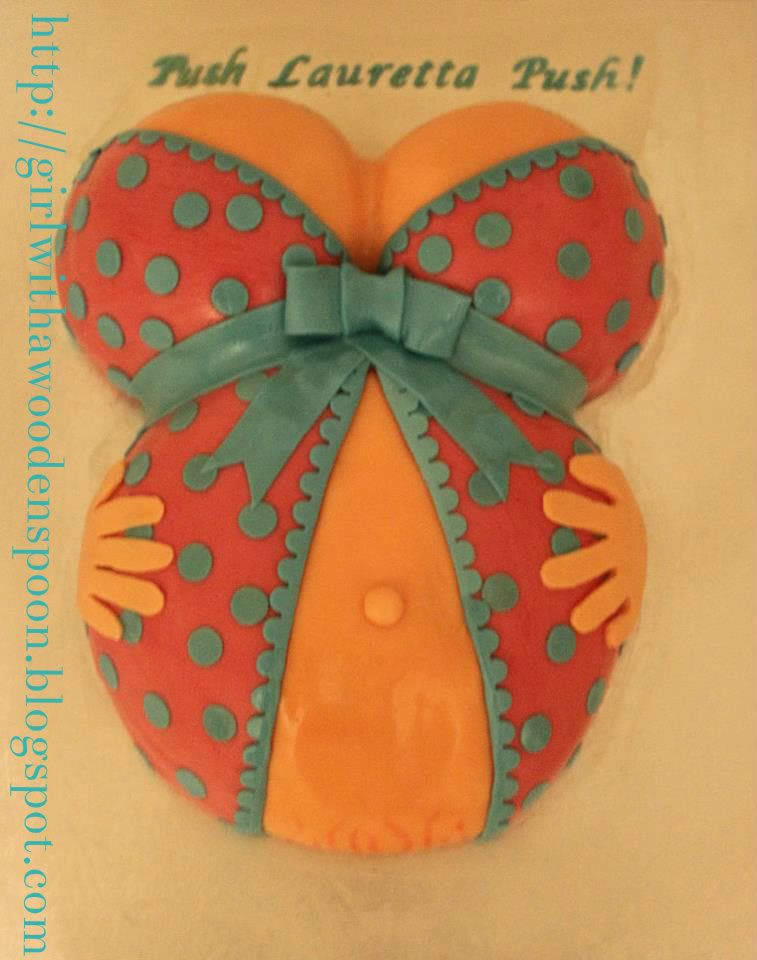 I had a lot of fun on this baby! (Haha, pun intended!)
Now my dear friend, Jodie, had a most unusual request for this cake. It was for her best friend's baby shower, and she wanted something... A little unusual. She had seen pictures of "funny" baby shower cakes, and wanted one like that as you always see the same baby pink/baby blue teddy-bear infested pile of vom. However, these weren't "funny" cakes - they were downright horrid! (Picture this cake, with a hand sticking out of the belly holding a sign saying "Nearly there!" Um, no. Just no.)
I managed to convince her to go a little more conservative, and at most I allowed the inclusion of painted-on stretch marks at the bottom of her tummy. I did add some on her boobs, too - but they just looked like stink marks you put on a cartoon. So I promptly removed them with the aid of vodka and a cotton bud :)
Icing on the Cake:
The shape of the cake was created by baking the boobs and tummy separately in glass Pyrex bowls. I know you can get dome-shaped cake tins, but when I went to hire them from my usual place, someone already had them. It was the cake shop owner's idea to bake the cakes in bowls - and when I asked if that was safe to do she reminded me that we bake everyday in glass (casseroles, lasagnes etc. Duh!). I greased the bowls first in Cake Release Spray and filled each bowl to about 2cm below the rim to allow for the cakes to rise. I always bake any cake for 15 minutes uncovered first, to get a lovely golden glow across the top. Then I cover the cakes in tin foil and I baked for another 40ish minutes (depending on the size of your bowl this will vary cooking times. Remember your bowls are DEEP and you want them cooked right through!!!
I got loads of compliments just on the basis of the babydoll design. Obviously a hit! I love creating sugarpaste bows so I had to include one on there somewhere!
This was lemon drizzle cake. 'Nuff said. Mmmmmm.
Burnt Bits:
As previously stated, the bowls I baked these in are very deep, which is annoying as you don't want to keep removing the cakes from the oven too many times to check if they're done. Always check them with a skewer. When you come to half the cakes to spread a filling inside you'll soon find out if you took them out too early (which I've done!).
I don't like the quality of the picture. I used the PME Clear Finishing Spray again on this one but it just looks wet.
This cake was huge. I used a 14" x 16" cake board just to give you an idea of the size. It was only meant to feed about 20 ladies so I'm assuming there was lots left over. No biggie though - better to be bigger than too small.
The hands. Jodie wanted them on there. I don't like them. That's all.
On a final note, I want to give a special mention to Jodie's adorable 2 year-old, Fliss. Upon Jodie turning her back on the cake, Fliss proceeded to push her toy box up against the table the cake was on, climb up on said box and promptly POKED the cake in curiosity. Needless to say I had frantic messages from Jodie asking what to do to salvage the cake, but by the time I realised what had happened she had managed to sort it out! Her daughter really is adorable though, so I'll let her off :P
Happy Baking x