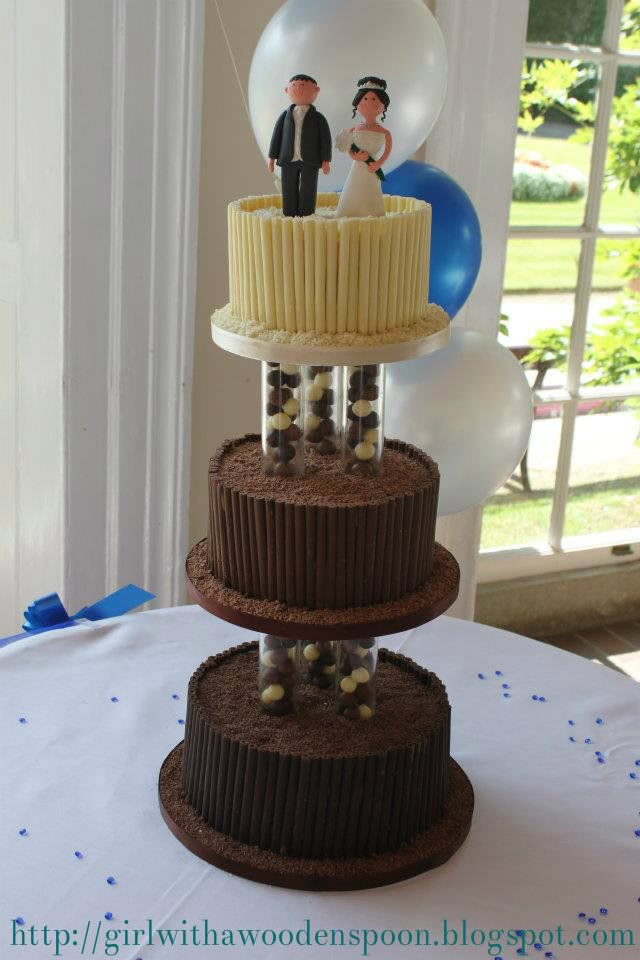 This was my first cake that I've used pillars with, and they're not the traditional plastic pillars you'd usually associate with a tiered cake. This cake was an order for the sort-of-step-sister of an old friend, and she had found a picture of this design online and wanted the same for her wedding. The bottom tier was a chocolate fudge cake with dark chocolate ganache, the middle tier was a vanilla sponge with milk chocolate ganache, and the top tier was a vanilla sponge with white chocolate ganache. All three tiers have their respective flavour chocolate cigarellos surrounding them, which is held in place by the ganache.
The pillars I used were clear fillable acrylic pillars, and they come in a range of tube widths and numbers. From the looks of the picture I was given as a guide to follow, the bride and groom believed the chocolate balls filled in the tubes to be Maltesers, but since I couldn't find dark or white chocolate Maltesers ANYWHERE in the middle of summer (usually you see them at Christmas time) they were happy to let me use rolled-up balls of chocolate Cocoform instead. They were only used as decoration anyway, not to be eaten. Now these pillars were extremely expensive - about £50 from the cheapest places online! - but lo and behold my amazing cake shop owner had these in stock that she lets out to hire, and she let me have the two of them for the weekend for a mere tenner! Score!
I really enjoyed the assembly of this cake, from fixing on the chocolate cigarellos to adding in the chocolate shavings to bring the whole piece together - the entire look really worked well and I was so pleased when it was finally assembled at the wedding venue.
However, I mentioned this was a summer wedding cake. When I arrived at the venue, I was horrified to discover that the cake table had been set up in direct sunlight - and it was a scorching day!! I mean - it's a three tier chocolate wedding cake! And they wanted me to leave it to melt?! You can even see in the picture that it's amazingly bright outside! So after a slightly heated discussion with the wedding co-ordinator, we agreed that the table would be moved into the shade whilst I assembled the cake, and when it was time for the Bride and Groom to come into the Reception room that they'd move the table back where it belonged. I really didn't like this idea. Cakes are extremely fragile, and I had to leave it in the "trusted" hands of the venue staff. So I left the cake in this condition as you see above. But I have no idea what happened later in the day... And unfortunately the B&G were extremely unhappy that by the time they got to the cake that evening it apparantly looked like "the leaning tower of Pisa," as they put it :( Obviously this left my confidence extremely knocked for six, as I knew that I had stacked the cake as carefully as I always would - using dowels and cake boards between each tier to support the weight of the next one. I can only assume that when the staff moved the table with cake later, something jigged and moved...
I suppose this is just one of the punches I have to roll with when working in this business - after delivery the cake is out of my hands and I just have to hope and pray that nothing happens to it.
Icing on the Top:
It looks brilliant, I'll even say it myself. I was so pleased with how good it turned out that my mum treated me to lunch as a congratulatory celebration on delivery of my first real wedding cake. So she was witness to everything, by the way!
I received LOADS of compliments for this cake from friends and family. It kinda made up for hearing such a critisicm on one of my creations.
Burnt Bits:
This is the only cake that I've made to date that the recipient has not been happy with :(
Where some of the milk and dark chocolate Cocoform balls touched the white ones they left little smudges of chocolate. I'm a perfectionist, so I HATED those little dirty bits!
Chocolate is EXTREMELY difficult to work with in hot weather. When we moved the tiers onto the WHITE table cloth, a few of the chocolate shavings fell onto it and stained it slightly. We were able to fix this by flipping the table cloth over, and when it happened again we used the diamante table decorations to cover them, too.
The chocolate cigarellos come in all shapes, all sizes. Some are wider than others, and unfortunately this made them hard to line up next to each other in a uniform straight line. You can see where this hit worst on the bottom tier.
I was on such a high after the delivery of this cake that I can't believe how much that turned around in a few days. I hate this part of the business, disappointing people. I just hope next time that someone requests a chocolate cake that they ensure their cake table isn't in a position that could compromise the final presentation of it :( Something to consider, for all you engaged couples!
Happy Baking x