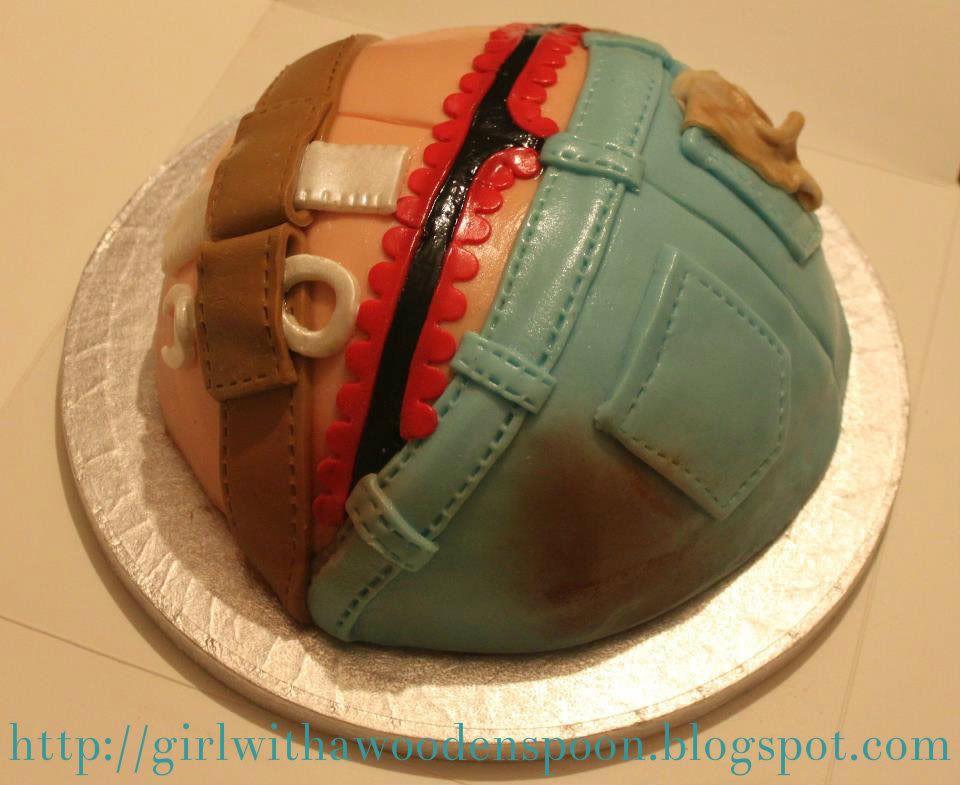 So you saw in my last post that I was under a bit of pressure as I had that cake PLUS this one to do all in a day - my head was a bit fried by the end of the weekend as I ended up going to both parties, too!
I love this cake, it was such a talking point at the party! I delivered it to Jim's mum before we headed out to an engagement party, but the cake box was sellotaped down so I could give the cake the big reveal to her when we came out later in the evening.
For christmas my darling bestie, Abby, gave me a rude cake book. One of the cakes is a builder's bum, and I showed the book to Jim's mum later - she loved the builder's bum and made a joke about having a plumber's bum cake for her birthday and then left it. Of course, I took note on what she said and when it came to her birthday I made sure I was the one to be making her cake as I had a suprise for her. You see, she's training to be a plumber, and she's bloody brilliant at it!
So I made the necessary changes to this cake to make sure everyone knew it was a female bum by adding in the frilly thong and sparkly (although you can't see it) plumber's tools. I used my ribbon cutter tool with the serrated edge to give the stitching effect on the jeans and plumber's belt, and dabbed edible lustre dust in Terracotta on the bum to give the "dirty" effect. I marbled brown and white icing to give the effect of a dirty rag and tucked it into the jeans pocket, too.
Icing on the Top:
Jim's mum, Tanya, was over the moon with her cake, and couldn't stop showing her guests. Always a good point :)
I'm really pleased with how much detail I gave the bum. Having a rather nice one myself, I pride myself on the detail in that area. Haha!
Another successful Pyrex bowl cake!
Burnt Bits:
I made this chocolate cake about a week in advance because I knew how busy I'd be with the engagement cake, too. I then froze the cake, which I've read a lot about. It didn't taste bad - it was nice - but fresher is always better.
Still to this day, Tanya raves about her cake :)
Happy Baking x