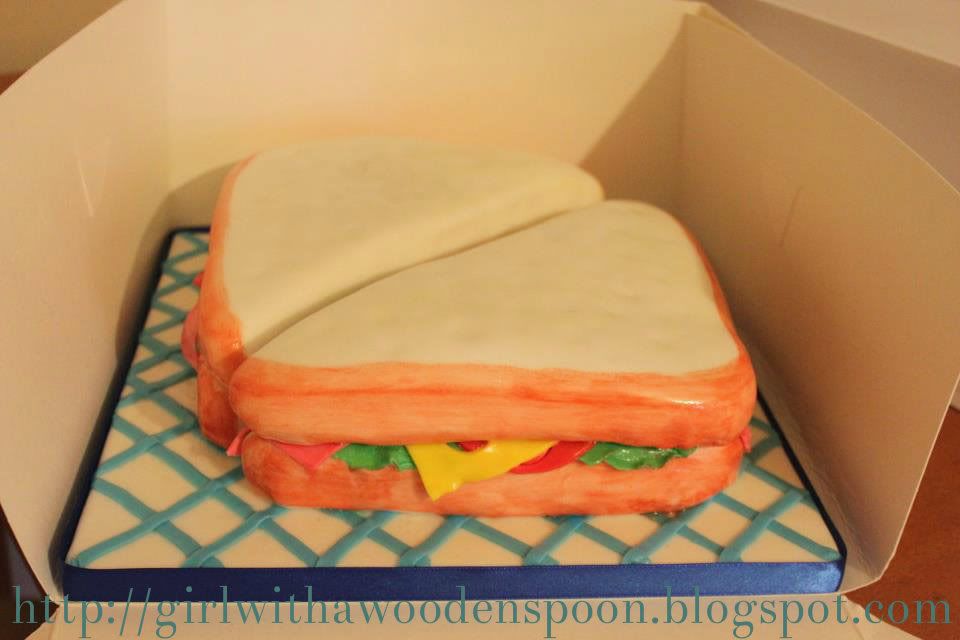 I apologise for my rude title, family members :D I've recently got into Michael Patrick King's HILARIOUS new comedy '2 Broke Girl$' (in which, coincidently, the main characters are trying to build a cupcake business. Huh, go figure.) and Max receives her first cheque for a legitimate cupcake gig and screams this out to her diner patrons. Well this was my first legit gig!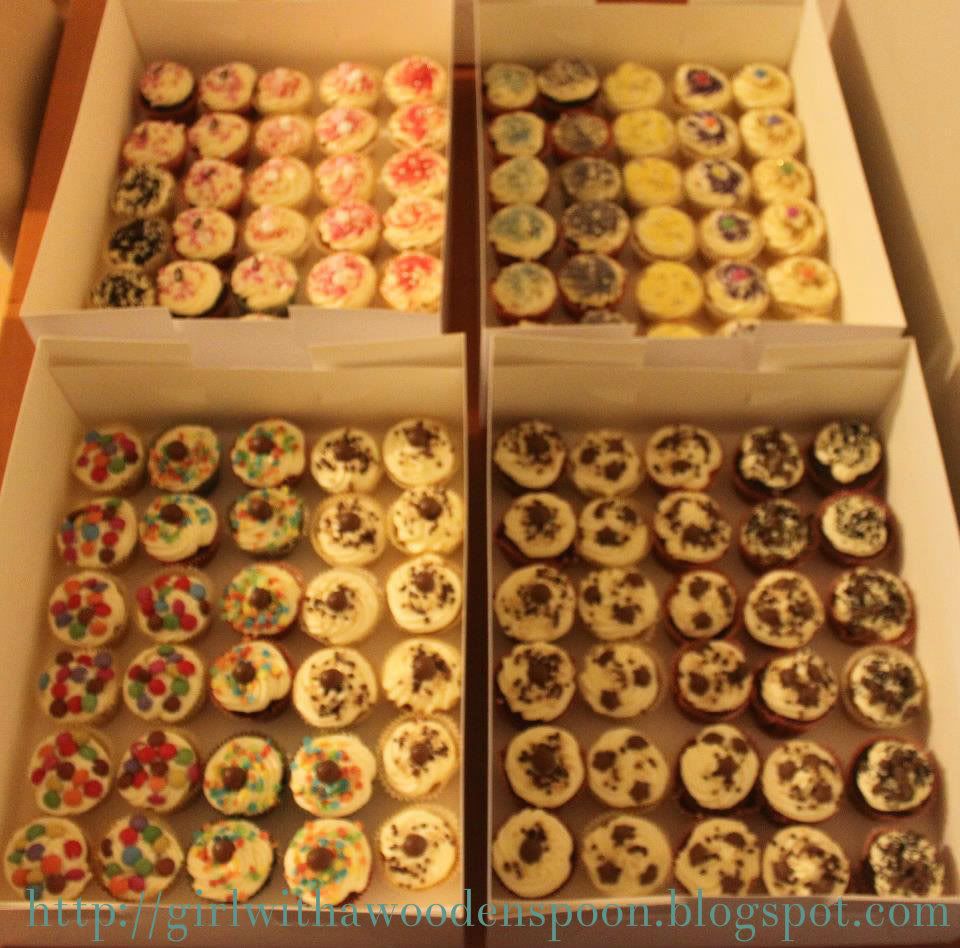 One of my brilliant friends, Tash, recommended me to her mum (the headmistress of one of Plymouth's secondary schools) when she needed someone to make a cake and cupcakes for a staff event at the school. A cupcake shop in town - which will remain anonymous, but if you live in the Muff then there's only one - charge £1.50 for theirs, and my going rate is two-thirds of that. So Tash's mum came to me and asked to create a sandwich cake to raffle off (I think, it was a long time ago now) and the cupcakes were for the staff. She just told me to decorate them colourful and sparkly!
I love the sandwich cake, it was so fun creating all the fillings and it genuinely looks so edible! Hehe! I just baked two 8" square vanilla sponges and halved each of them, then covered them in white icing. I made cheese slices and poked holes through to make it look like cartoon cheese (seriously, can you actually buy cheese with holes in?), cut out round circles for tomatoes (not too much detail on the slices as I knew these would be well hidden underneath the "bread") and then streaked different shades of pink and green icing to make bacon and lettuce, respectively. I painted on bread "crusts" with brown food colouring, and dented the top of the "bread" with my knuckles to make it look loafy.
Icing on the Top:
I was later told that the winner of the sandwich was thrilled with her prize, which makes me happy :)
The loafy effect of the bread was an accident. I dented the top of the cake when I was painting on the crust by leaning my hand on the cake (not the first time I've done this, oops!) but actually it was like a happy accident, much like discovering penicillin, or my brother! Haha.
I had so much fun decorating the cupcakes with a range of sweets - Smarties, Magic Stars, marshmallows, sparkly sprinkles, Malteasers, etc...
I bought a new HUUUUUGE icing bag to decorate the cupcakes with - allowing me to ice around 25 cupcakes without stopping to refil my bag with buttercream. £8 well spent!
I thought the picnic-blanket effect for the cake board was very effective :) And whaddyaknow, I used my sugarcraft gun to create the long strips of blue icing!
Burnt Bits:
I made the cupcakes the night before they were due to go out, and the next morning found that the colouring from a lot of the Smarties had ran into the buttercream due to the moisture :(
The "crust" I painted on the cake ran slightly onto the cake board design. I tried my best to clear it up with vodka, but I risked ruining the check blanket effect the harder I tried. Sucky.
Needless to say, my friend's mum was super-pleased with the results, and agreed that if she ever needed me again she would be sure to call. And two weeks later she did! My first cheque from the CITY COUNCIL arrived soon after this order as it was technically a school expense. WAHOOOOO!!!
And so began my short-lived journey to official self-employment.
Happy Baking x