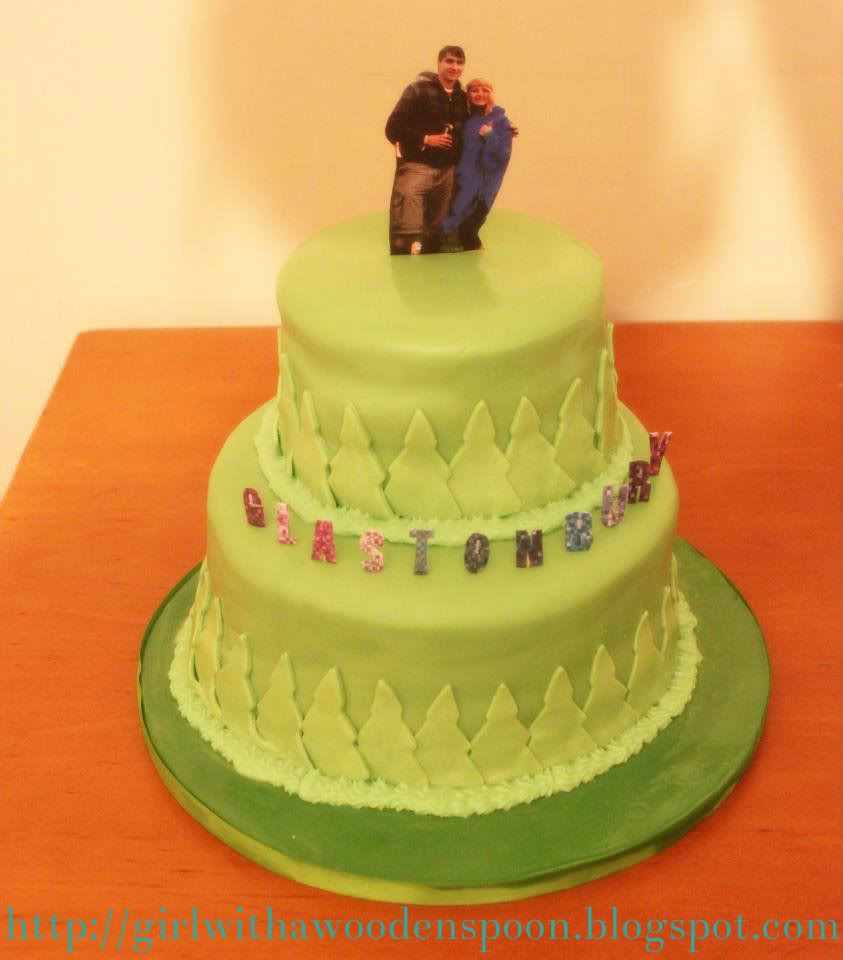 Quite possibly one of the worst cakes I've made.
Alright, I know it's not terrible. But it ain't great. People can say all they like that it was a great cake, but I know deep down they're thinking... WTF?!
This was for one of my best friend's engagement party. She is one of the sweetest people you will ever meet, and I feel so terrible for the way this cake came out. On their first wedding anniversary I plan to replicate this cake the way it should have been made so fear not! Hannah and Mark will get their perfect engagement cake one day! It should be noted that I'll also be making their wedding cake so I'll be sure to make that one perfect too!!
Icing on the Top:
This was a replica of their proposal, which I cried at when Hannah told me (not because she had a diamond ring, because I'm genuinely happy for her!!). Haha, no being serious. It was Hannah's 21st birthday at Glastonbury 2011 and Mark took her up on Glasto Tor and after much fumbling about in his pocket for the ring that his mum had SEWN to the inside of his trousers, he managed to pop the question to our beautiful Hannah. So Hannah and I agreed on this design for their cake.
The reason I don't like this cake is because there's too many inside layers of cake. Don't get me wrong though, you can argue that having too much cake is a pro, so I will argue that.
Hannah and Mark really are just the sweetest couple and couldn't stop gushing about it. I even got a mention in the toasts, so I'm guessing they liked it.
Burnt Bits:
It's shit.
Normally, I bake two layers of cake and sandwich them together with buttercream. For some reason I was convinced that these layers wouldn't add enough height to the cake so I carried on baking and gave them a triple-layer cake on each tier. Unfortunately, this didn't work in my favour due to the amount of buttercream I sandwiched between each layer, and this led to it spilling out of the sides of the cake once I covered the cake in icing. The weight of the icing just helped push out even more buttercream, and gave this horribly bumpy edge to each tier.
I thought that by adding a string of trees around the tiers it would help disguise this. It didn't, and I don't even think there are many trees at Glastonbury festival.
I was under a lot of pressure to make this cake. I had stupidly agreed to also make my then mother-in-law's birthday cake for the same day, and suffice it to say, I put more effort into her cake :(
I couldn't get the consistency of the royal icing right when I was finishing off the bottom of the tiers, and a lot of it melted into one another instead of maintaining their 'star' shapes.
The 'Glastonbury' sign was supposed to be made out of flowerpaste, so that it would harden and I would be able to stand the letters up on the side of the tiers. I didn't plan this very well, and the letters I was cutting out were very wonky, messy, crappy... So I just printed off a picture of the sign and cut it out, layering the letters onto card and affixing them to the cake with cocktail sticks stuck to the back of the letters.
Hannah and Mark are HUGE compared to the sign. Evidently not good to make out that they are in fact, giants.
I will now post about the other cake I made that day to make myself feel better about my cake-making skills. Boo me!
Happy Baking x