I'm getting more requests these days for cupcake orders. Naturally, they're the "in" thing right now and I don't doubt they are much more popular than my cakes. I've had two orders to do lately, the first was for
Abby's
auntie and uncle's wedding favours.
Chocolate Fudge Wedding Cupcake Favours
I had an absolute nightmare with these. They tasted amazing, don't get me wrong (yes, I can feel how big my head is). But because they had risen slightly in the centre, it was awful to ice with buttercream without it sliding off. The cupcakes were to go in clear plastic boxes tied with ribbon, so sliding buttercream was not a good look up the side of the box. So I wiped off the buttercream, started again. And again. And again. I was in tears trying to rectify the problem, and eventually had to cut the top of each cupcake off, swirl on some pre-made buttercream (because I had ran out of icing sugar and time was running out!!) and finish with some home-made chocolate roses. Remember how to make them? No? Find out
here!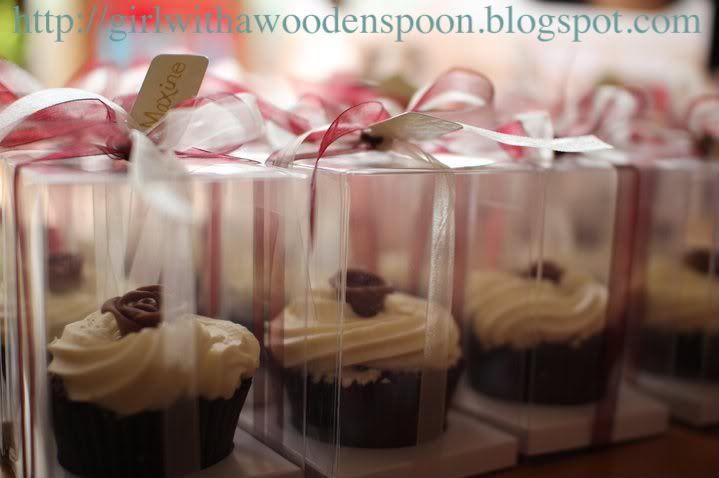 N.B Although watermarked, these images are actually courtesy of Abby's cousin - how amazing is this photography!!!
The favours came out amazingly (despite the smidgens of pre-buttercream you can see underneath the final swirl). They were finished with chocolate and cream organza ribbon and a label for everyone's names. Technically, these cupcakes acted as 1) favours, 2) name placements, 3) dessert! How efficient! Here's the second order:
Carrot Cupcakes with Cream Cheese Frosting
Now this was a challenge. I have never tasted carrot cake. I have never tasted cream cheese frosting. What the hell? I have no idea if they tasted like what they were supposed to taste like, but I made extra for my parents to be a judging panel. They liked them, and carrot cake is my dad's favourite so that had to be a good sign. Okay then, proceed.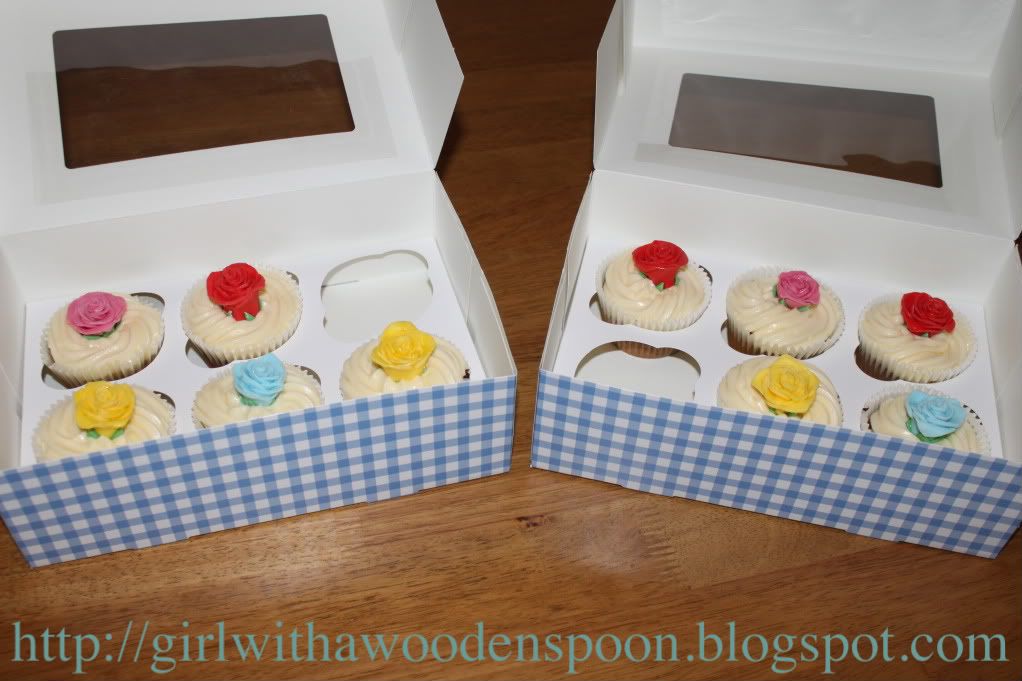 My friend Emily from university got married last week - congratulations! She wanted a spin on the general hen party and organised a vintage tea party to have with her girlfriends - bunting included! She asked me to create these cupcakes with an assortment of coloured sugarpaste roses to finish. Suffice to say, this is probably the only cake order I've done where I haven't descended into tears. Wahoo!! She loved them, and even paid more than what I asked for them because of this! How generous?! (I think the gingham cupcake boxes added the extra pzazz, don't you? Oh I
love
the word pzazz lately!)
The roses are made in exactly the same method as the chocolate ones, with a star cut-out of green icing underneath for the leaves :)
Happy Baking x