As part of a uni project, I had to create an interactive model of some sort that related to new media and something that interests me. So what
interests
me? Cooking? Bingo. I decided to host a dinner party, whereby each of the particpants could choose an ingredient of their liking to be included in the meal, and this was done by text messaging (
interactive
). The participants were:
1) James
2) Karen
3) Tony
4) Jim
5) Kirsten (myself)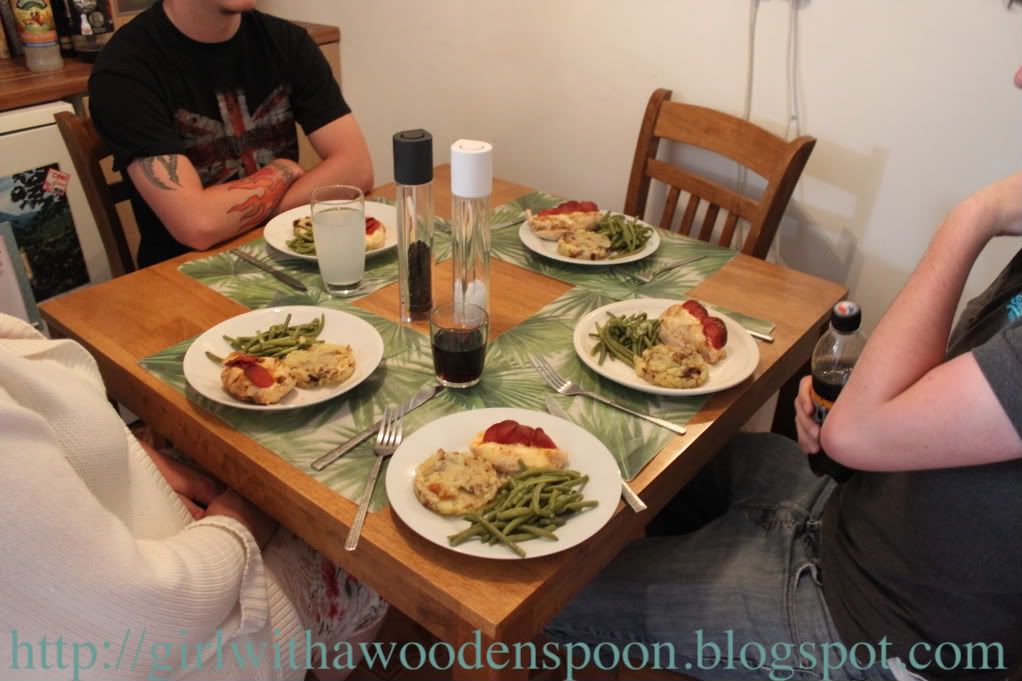 I told the first particpant, James, one item that
would
be included in the meal. This was
mozzarella.
He then chose an item to match with this -
pepperoni.
The next particpant, Karen, knew the previous ingredient that James had picked. She texted me the next ingredient -
chicken.
I could see where this was going - they assumed I'd be making a pizza because of the generic ingredients of pepperoni and mozzarella. Nope, it wasn't over yet. The next particpant, Tony, knew of the chicken. I requested he suggest a vegetable to accompany this - he texted saying
green beans
. Jim then knew about the green beans, and I suggested he request a type of potato to accompany them - hence a full meal! He asked for
mashed potato.
As the host, I decided to add a flavouring now that I knew ALL of the ingredients in the meal and started to plan a dinner
- paprika.
So - what to make?! I knew they were expecting a pizza of some sort. But that seemed too easy. I've always been good at
New York chicken
so I made something similar to this. I sliced the chicken breasts down the centre, but not quite all the way through. Then I added sliced of mozzarella cheese and pepperoni. I prayed this was going to taste nice. I chose the paprika because I thought it would complement the spicy chicken well, and not make it too boring. These I then baked in tin foil for around 30 minutes, then removed the tin foil for another 5 minutes to crisp them up. I also like to serve green beans with NYChicken so this was a good match.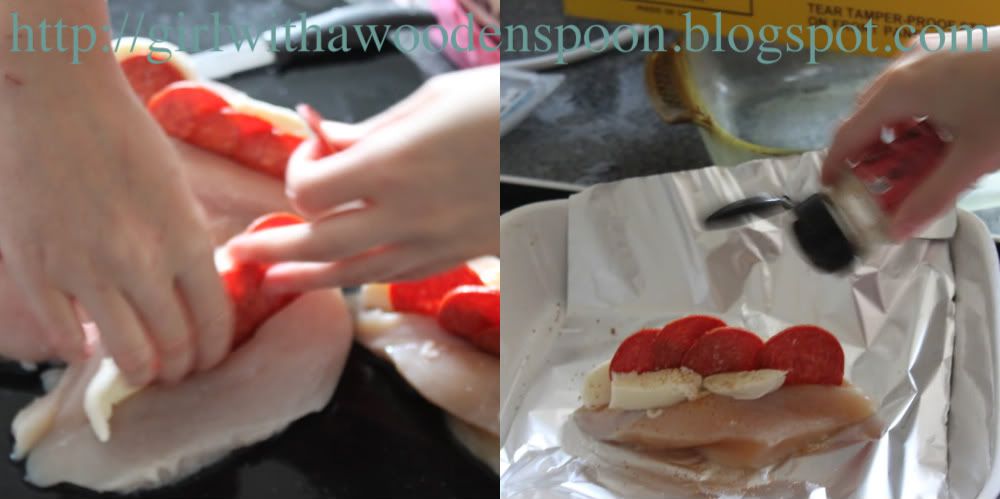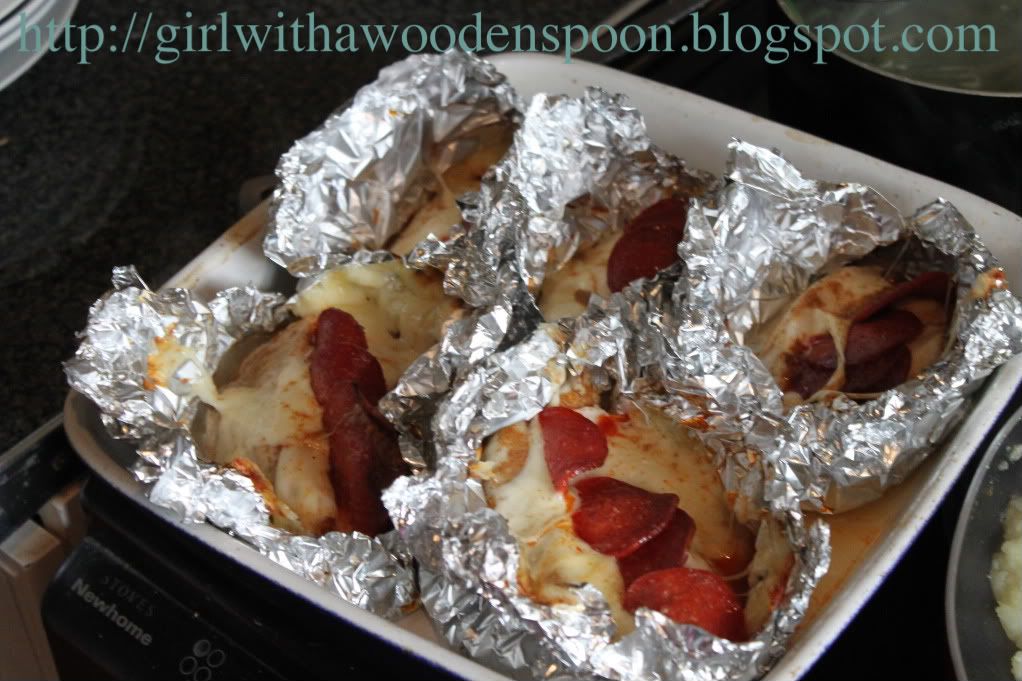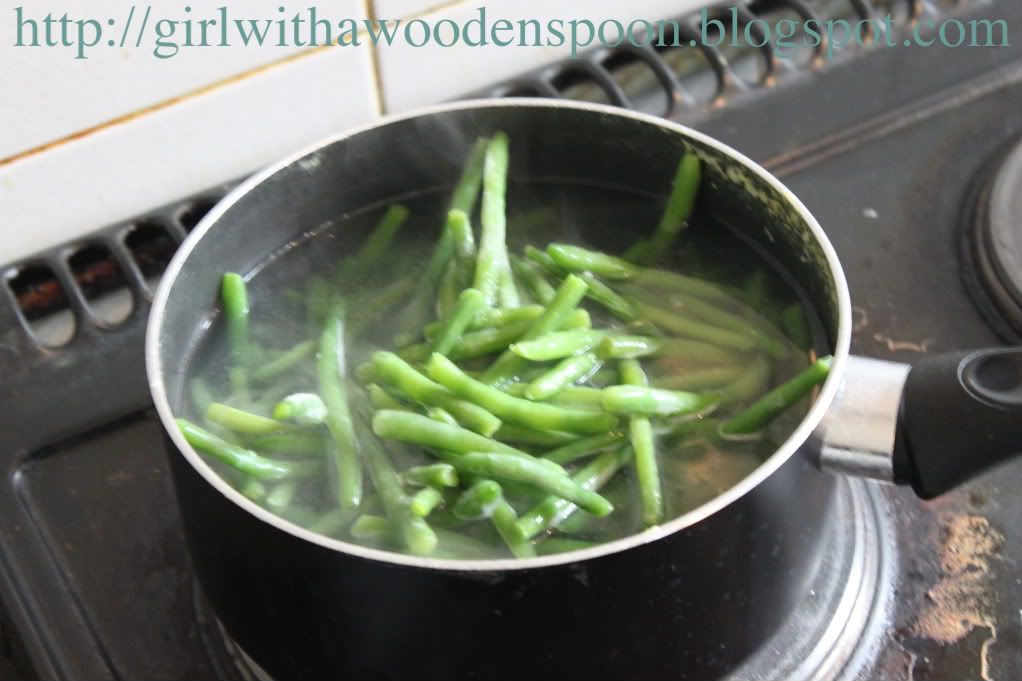 Now for the mashed potato, I decided to bring a modern twist on the traditional recipe. I recently went to a restaurant that served "crushed" potatoes - half mashed, half roasted/boiled? I'm not quite sure. But it was yuuuuummy. I thought this would be a good spin on the mashed potatoes, so to make them I boiled about 8 potatoes until they were very fluffy. Then I roasted them in a pre-heated dish for about 10 minutes to get them slightly crispy. Then for good measure, I transferred them to a frying pan and half-mashed them up. Add a little rosemary and garlic for some gooooood flavours!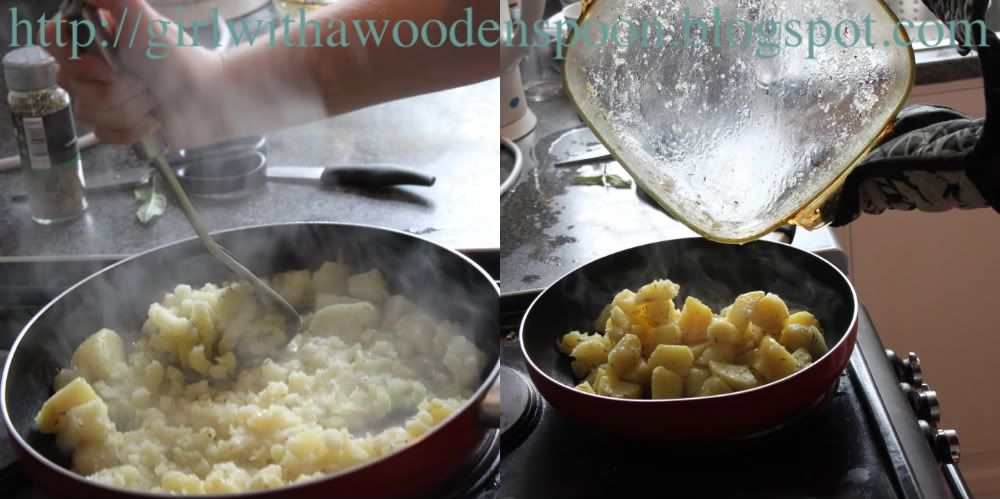 When serving, I used a metal rings on each plate and spooned heaps of the mash into each ring, then pressed down. When you remove the ring, it gives a restaurant-standard quality of presenting the mash - nifty, huh!?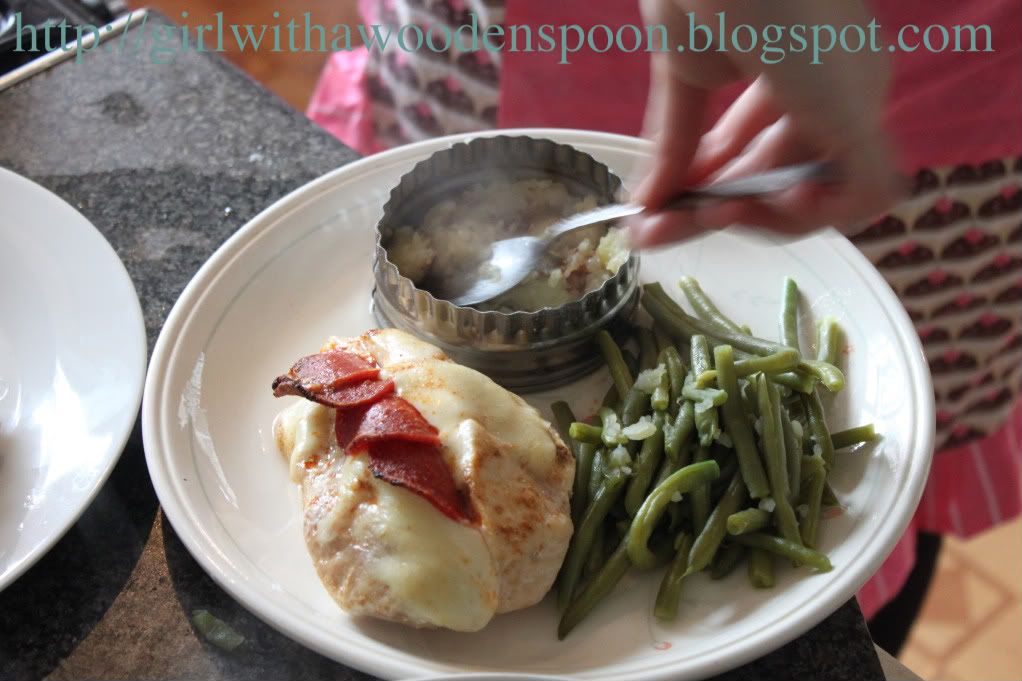 I chose Vanilla baked cheesecake for dessert, too. This was the majority result of a Facebook (new media) poll in my status - where I simply asked "Chocolate/Cheese/Fruit for dessert?" and six out of 10 friends replied "cheese."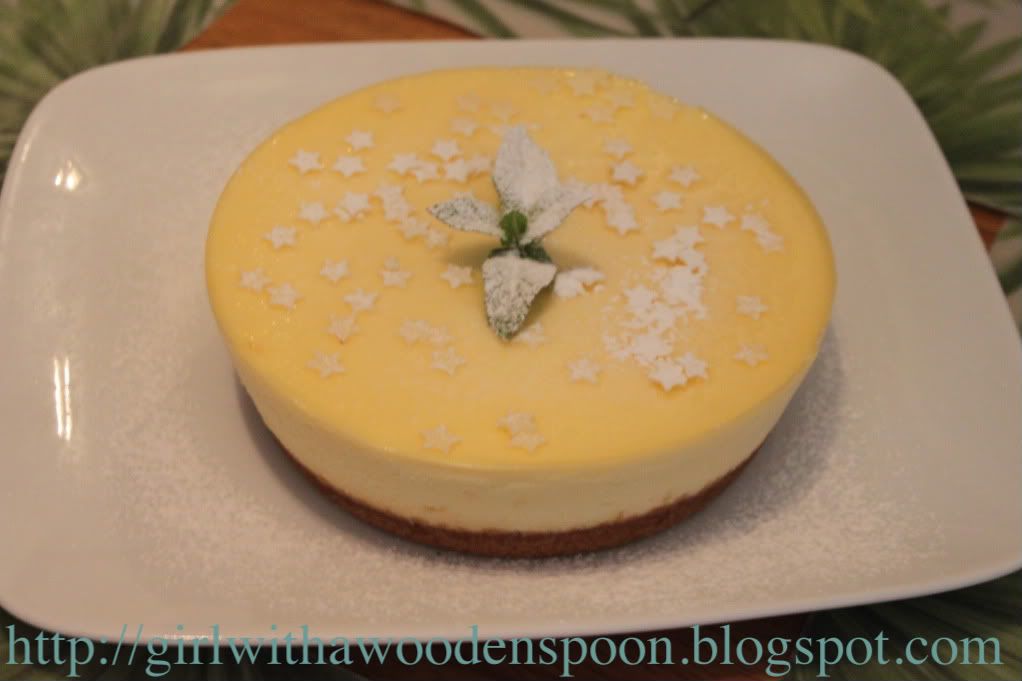 Comments from the participants:
1) James - I really liked the meal. We were all expecting something like Hunter's chicken for dinner because that's what Kirsten always makes - don't get me wrong she does that well, too! So it was a nice change for her to do something different. I admit, when she said mozzarella I thought it was a pizza so that's why I said pepperoni!"
2) Karen - "Tasty, the mozzarella and pepperoni were a good combination with the chicken. Very morish!"
3) Tony - "A unique experience. I had a wonderful time."
4) Jim - "I think the crushed potatoes were amazing. I normally hate mash potato so that's why I challenged Kirsten to try and make me think different - and she definitely did! The chicken was good, too."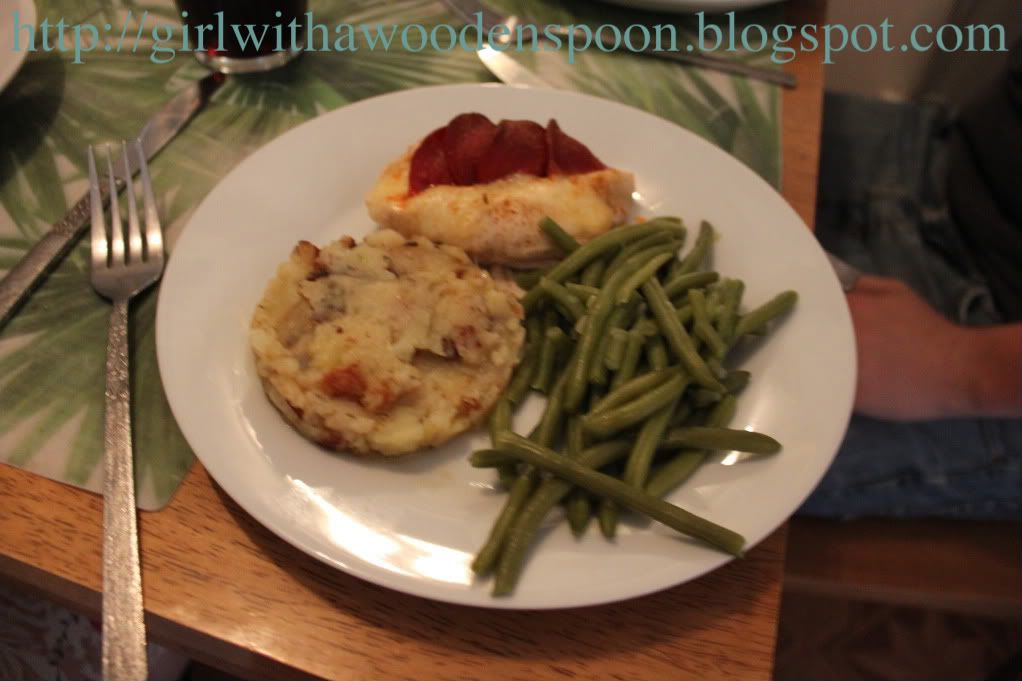 So, overall it was a good evening. I initially had doubts that this wouldn't work out well, hence why I chose to have some input in what type of ingredient could be included e.g. a vegetable. But I think the combination of chicken, mozzarella and pepperoni really worked out and I can't wait to try out crushed potatoes again!!!
Any feedback on this post is greatly appreciated and would be included in my final evaluation. I thought it would be an idea to get comments from my followers to see what your reaction to the whole process is, and how it could be improved/changed etc. Again, this is using new media and interactivity, so my tutor will be very happy! Many thanks for anything you say :)
Happy Baking x