Ooopsie, a month since my last post? I'm a terrible blogger. As I know you're sick of hearing, I'm just awfully busy at the moment trying to finish uni. Good news - only 2 weeks to go and then I'm done! The past month has been a whirlwind of essays, photography, catching up with friends after New York, oh and of course the odd baking order ;)
So the day we got home from our trip, probably not much longer after I last posted actually, Jim and I found out that our family friends would like to offer us their flat they rent out. After 5 years together, we naturally jumped at the chance to finally live together and start an exciting new chapter to our life! We've been shopping around and taking advantage of the great event days homeware stores have been offering, and can safely say that we barely need much more for the new place - Asda have been cleaned out of their kitchenware. I thought Jim might start getting pains in his chest at the amount of stuff his baker girlfriend was picking up for the trolley!
Your blogroll is going to be chocka with a few posts from me now, sorry. But I've been doing loads, and they need to be separated accordingly :P
EASTER 2011
Easter has always meant a slap-up meal at the in-law's every year. As a thankyou (and dessert!) I baked a chocolate fudge cake decorated with icing and a chocolate cornflake nest with Mini Eggs. Not very adventurous, I know. But mother-in-law was very keen to try this recipe as I had raved about it after using it for wedding cupcake favours, and was annoyed that I just kept raving and not sharing :P
I did try my hand at making easter eggs this year, too. But the layer of chocolate inside the mould was too thin and my patience was wearing it aswell! So the melted chocolate went towards the cornflake nests :P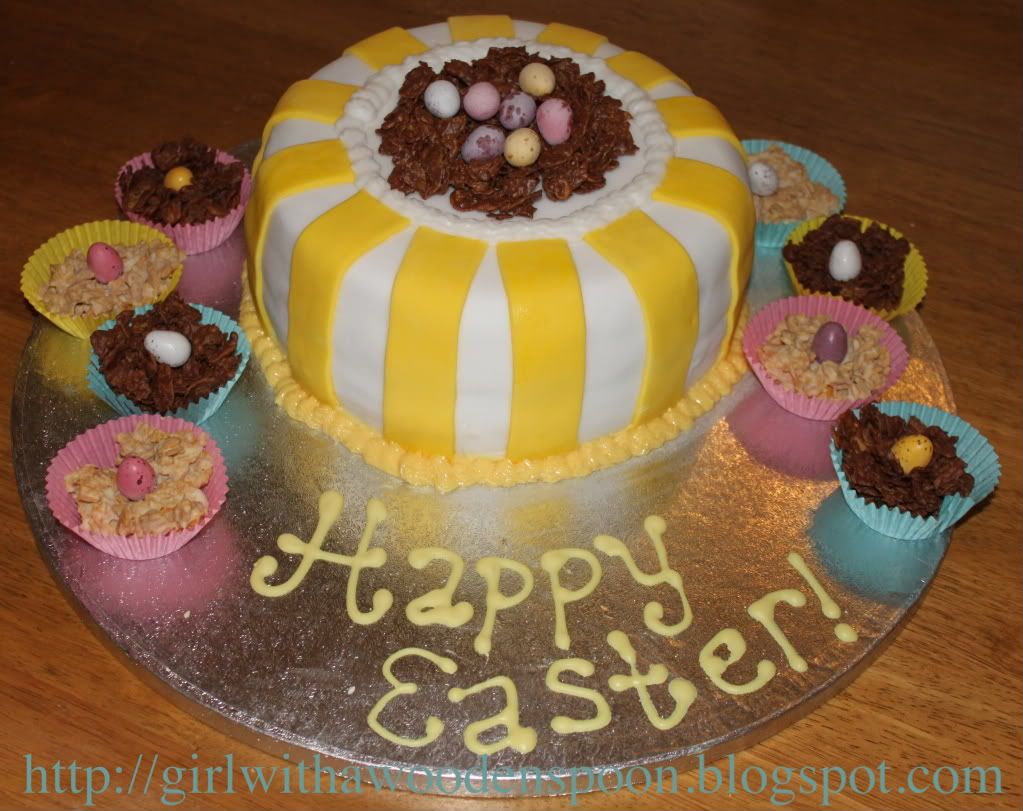 Also, my business -
Cakes by Kirsten
- is now up and running on Facebook! Please take a look around and feel free to "like." Plymothians - you're more than welcome to place orders! Haha!
Happy Baking x