Ahh so sorry for lack of posts, I've been out of money for a while and anyone who knows anything about baking and cakes knows that a lot of money goes into all those little details. So for now I thought I'd do a quick review of two books I've recently acquired for my cookbook collection. They are exactly the sort of cakes I'd love to delve into and get proper stuck in but for the time being all I can do is commissions :( (Don't worry, I have a fabulous chocolate cigerello tiered cake coming for my mother's 50th in a month! Oh and I'll probably do some sort of Halloween themed something-or-other come payday!)
So my new books are "
Cakes for Romantic Occasions
" by May Clee-Cadman and "
Couture Wedding Cakes
" by Mich Turner. Both authors are reknowned cake designers and they have a fabulous array of cakes inside.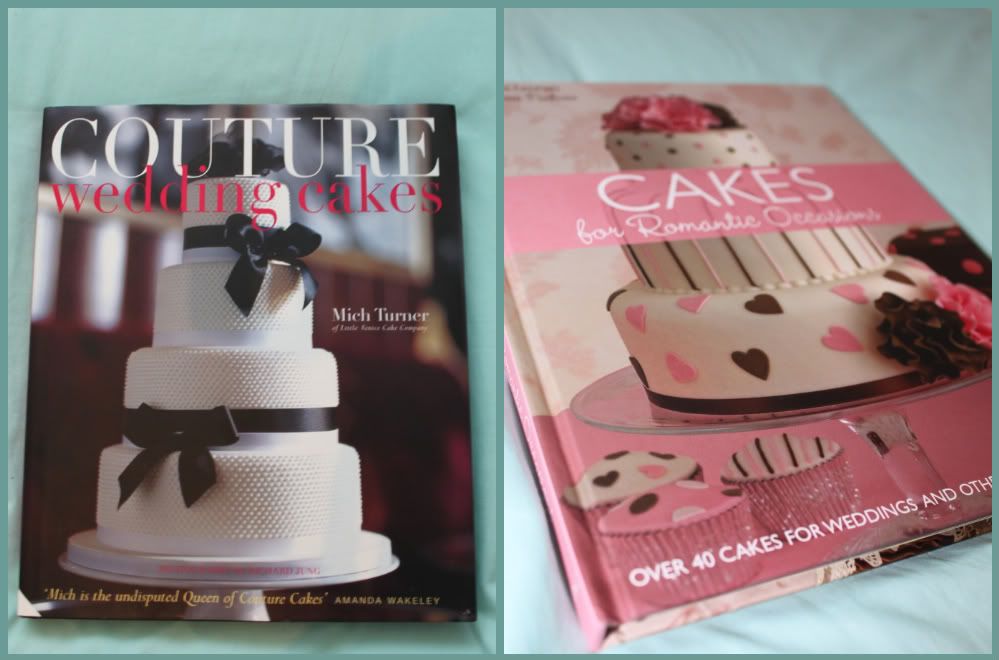 Couture Wedding Cakes:
Mich Turner has designed some of the most intricate and amazing cakes I have ever seen, gaining inspiration from top notch designers such as Amanda Wakely, Tiffany's, Boodles (sigh!) and Chanel. She founded the Little Venice Cake Company in 1999, which stocks both M&S and Harrods.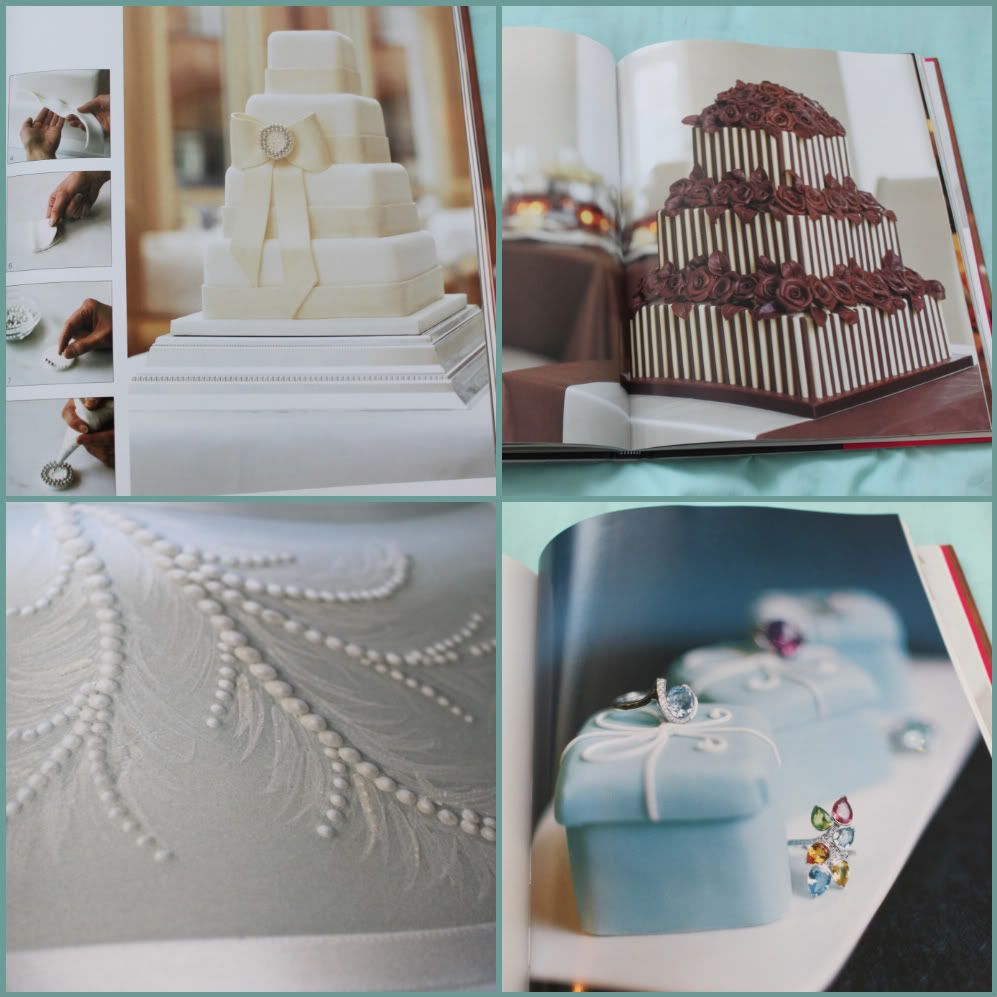 The chocolate monochrome cake in the top right is what I will be attempting to make for Mummy's birthday - ahhh!! And I love the detail on the bottom left cake, that's actually painted on to give a feather effect - gorgeous!
Cakes for Romantic Occasions:
This book has really hit the nail on the head for a new craze in wedding cake design - mini cakes! I absolutely love them and they are so versatile, it's you wedding cake, dessert, and a party favour all rolled into one! Couture Cakes touched on them, but I really think Ms. Clee-Cadman is on to something here. I'm being commissioned to recreate one of her cakes for one of my best friend's wedding, and it's so easy to just adjust the colours to match in with her wedding theme. Get a load of these beauts: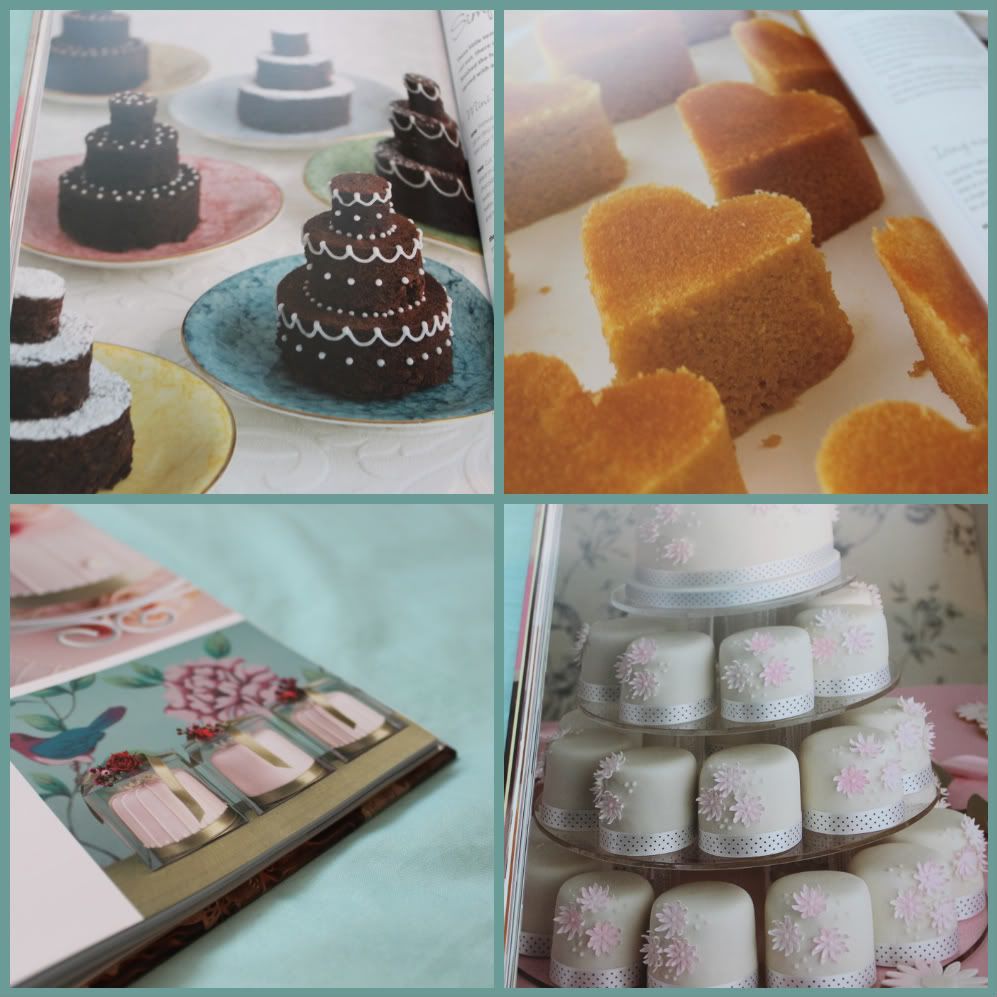 Even my boyfriend, Jim, thinks that chocolate brownie mini triple-tiered wedding cakes would be adorable for our own special day :P And below that, you can see how amazingly little detailing can create such a perfect wedding favour. A small clear box, ribbon and a dried posy makes it look just that extra bit special.
The top right Raspberry Ripple cake looks to diiiiie for, and look - my cupcake wrappers have hit the trend in this book!

Here's a sneak peek of what's to come soon - modelling chocolate: ever seen a beautiful sugar flowered arrangement on a cake? Try that, but chooooocolate! I'll be trying my hand at this baby to practice for the 50th birthday cake.
That's all for now folks.
Happy Baking x
Disclaimer: All photographs in this post are re-taken images from the books previously mentioned. I take no credit for any of the images in this post, they are simply there to help advertise the books I have reviewed.