Chocolate. Mmmmm. Can't go wrong with it. I've had a few days off work lately and was really bored so I decided to test out a new recipe from a book I've got:
The Home Guide to Cake Decorating
- £12.99 from Waterstone's which is extremely reasonable given the amount of information and recipes it gives you on cake design.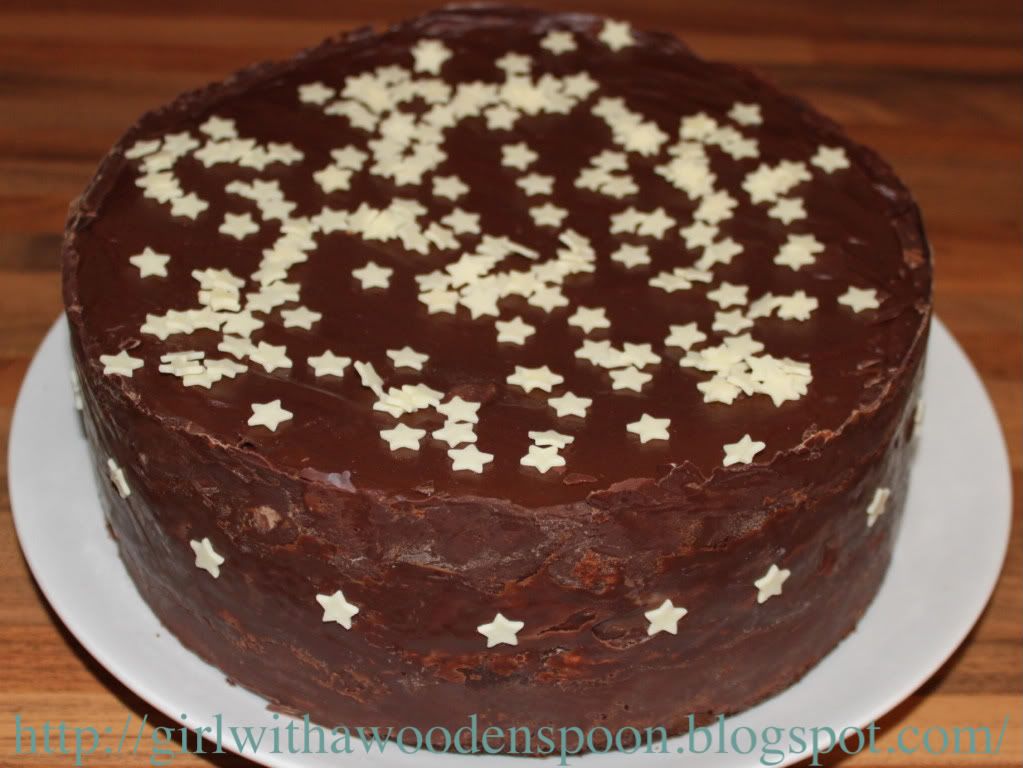 There are two chocolate cake recipes; one is just a general cocoa-flavoured one, and the other is the one I've made - Chocolate Mud. I preferred this one, as it actually has melted chocolate in the recipe which makes the sponge a lot more moist - it was like a brownie cake! The other one will give you a drier sponge that you can buy off the shelves.
Anyway, it's not a masterpiece, I know. I was just experimenting and thought I'd share with you my ideas and tips. I simply decorated the cake with chocolate ganache, white chocolate stars, and a dark chocolate collar. This is the first time I've attempted a chocolate collar, hence the crappyness of it. But hey, practice makes perfect.
Ingredients for a 9 inch circular tin
- I used two 1 inch deep sandwich dishes so that I could add a layer of chocolate ganache in between. Alternatively, use a deeper dish and just cut the cake in half:
- 7 oz Butter
- 7 oz Dark Chocolate
- 6 tsp Instant Coffee
- 160 ml Water
- 4 oz Self-Raising Flour
- 4 oz Plain Flour
- 1.5 oz Cocoa Powder
- 0.5 tsp Baking Powder
- 15 oz Caster Sugar
- 4 Eggs
- 7 tsp Vegetable Oil
- 110 ml Milk
For the Ganache:
- 5 oz Dark Chocolate
- 155 ml Double Cream
For the Chocolate Collar:
- 1 x strip of flexible plastic - I used the plastic found on the inside of Silver Spoon Ready Rolled Icing Sheets, however the picture showed the plastic you use to cover your old textbooks with - laminating stuff. Make sure it is at least a few centimetres taller than your actual cake, and enough to wrap around the whole thing, too - with a bit to spare for fastening.
- 120g Chocolate - your choice of flavour.
- White Chocolate Stars for decoration and colour.
Method:
Preheat your oven to 160'C and greaseproof paper your baking tin(s). Melt together the butter, chocolate, water and coffee in a pan on your hob. Keep stirring to prevent setting. Once completely melted, set to one side.
Sift your dry ingredients together and mix together. Make a well in the centre of your dry ingredients, and add the combined eggs, milk and oil. Add in your chocolate mixture and completely stir the whole lot together.
Transfer your mixture into your tins, and bake for 1 hour and 45 minutes. Cool for 10 minutes in their tins, then transfer onto a wire cooling rack. Remove your baking paper and level the cakes.
To make the ganache, melt the chocolate in a microwave for 30 seconds, stir, then for another 30. If there are a few small lumps, melt for 10 more seconds and stir. Mix in the cream until you have a thick consistency. This can cover the entire cake if you wish. I didn't use all of it, just enough to sandwich the two small cakes together, and to cover just the top of the cake.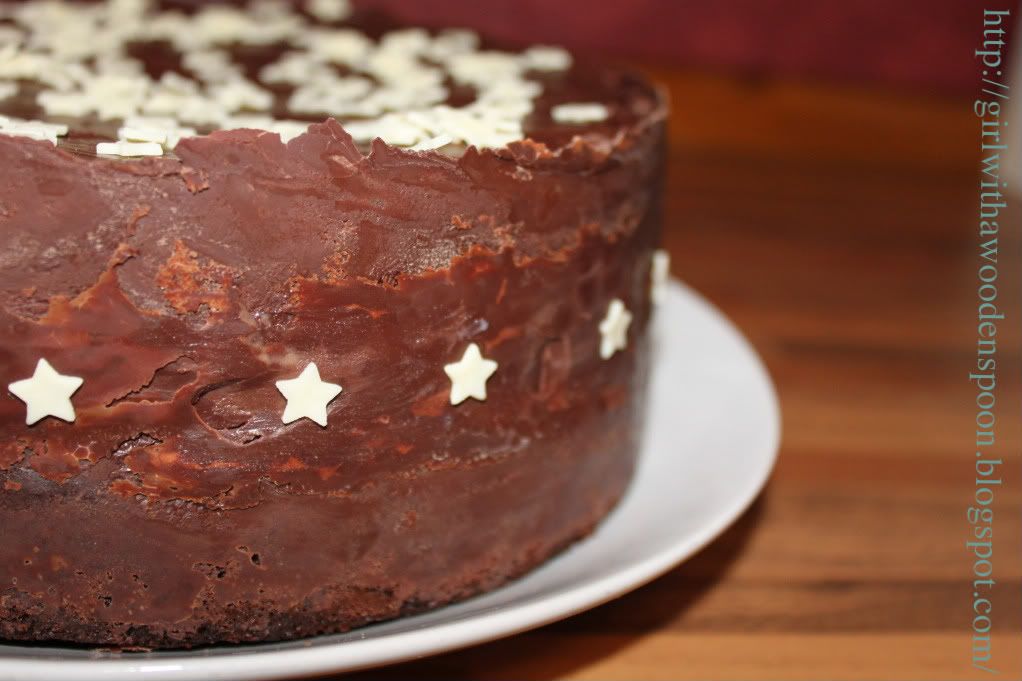 Okay, for the chocolate collar: Melt your remaining chocolate using the same microwave method. Carefully spread your chocolate over your entire strip of plastic, and leave to set just VERY SLIGHTLY. You don't want to transfer your strip to the cake and find the chocolate already cracking. It needs to still be slightly warm to stick to the cake.
Carefully wrap the plastic around the cake, with the chocolate on the inside. Fasten with the remaining extra plastic, which will have chocolate on and will set like a glue.
Leave to set for an hour or so. Depending on how thick you spread the chocolate, it will take longer to set. You can check if it's set or not by carefully unravelling the strip - if it hasn't yet set, just replace again.
Finally, decorate your cake with white chocolate stars, or similar edible decorations - just for a bit of colour.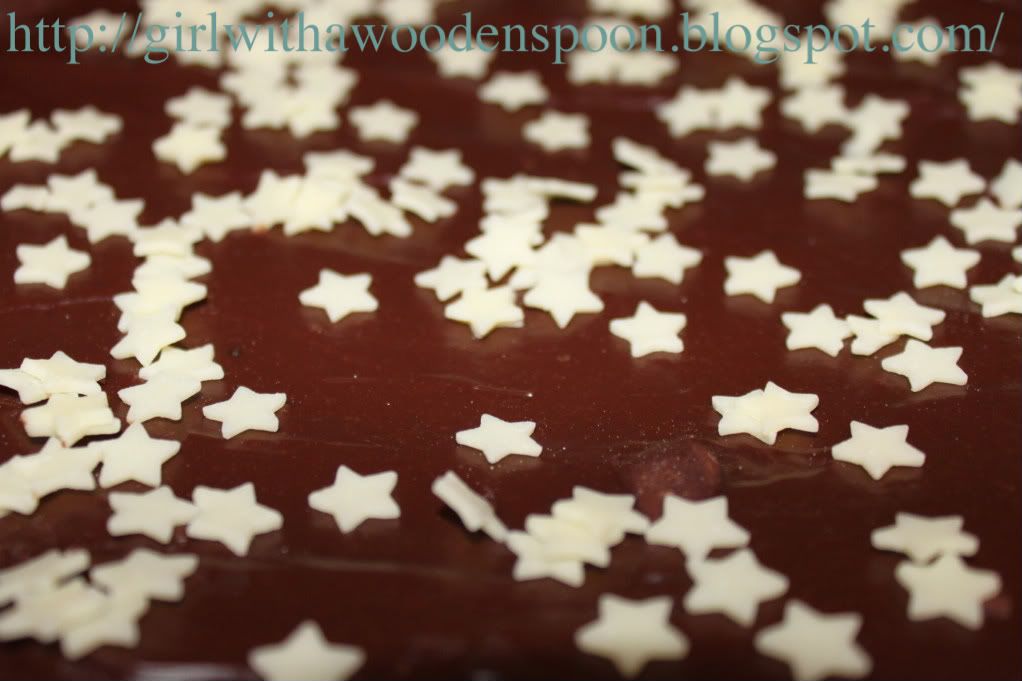 I'm quite pleased with how it turned out, but might just use a little extra chocolate on the collar next time. I think if it's thicker it will set more smoothly, instead of the rough finish I ended up with. You can also add white chocolate buttons in the strip to add interest if you want, or even the little stars. Add these to the strip first, then cover in chocolate and transfer to your cake. You'll end up with a polka-dot collar!
Let me know if you try anything better to help with the collar :)
Happy Baking!
Kirsten x