Sorry, pasta again guys... It's so easy! And sorry also for not having a post in so long - it's Easter Break and I've literally just settled down after probably the most hectic month of my life. I had looooads of deadlines for Uni, had to plan my 4 Year Anniversary with my boy, then it was my birthday, and to top it off, my mum was in hospital :( So you understand why I haven't had time to tell you about the wonderful world of cooking...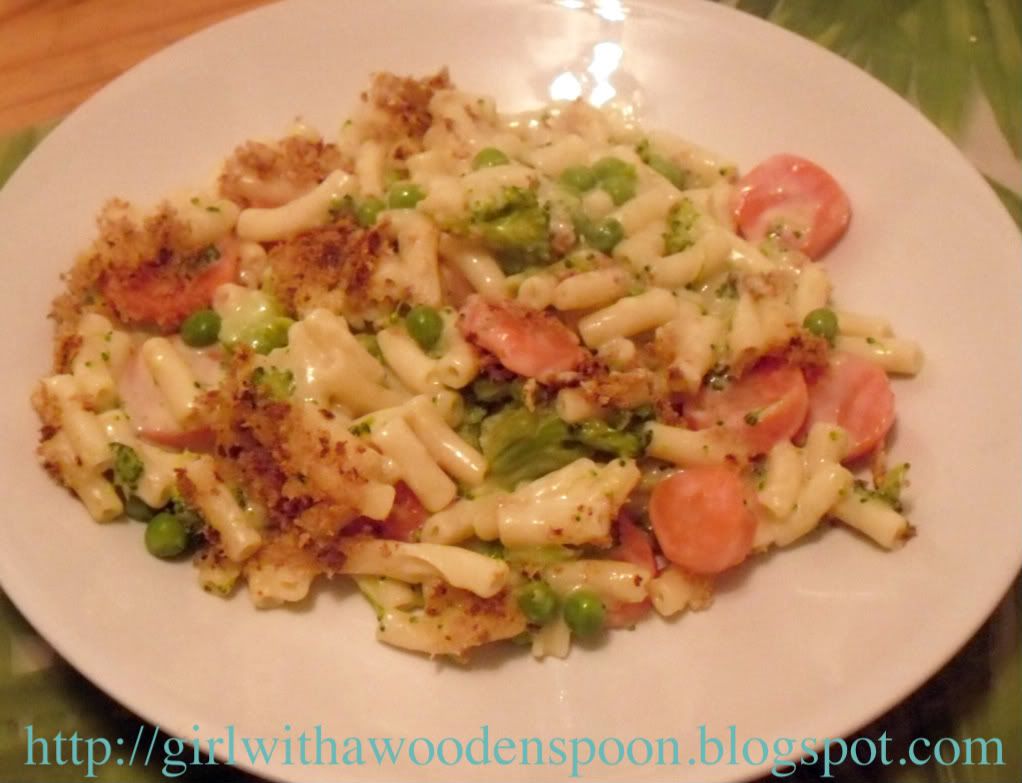 Anyways, this is uber yummy AND it's also Weight Watchers approved so very healthy all round, wouldn't you say? Pretty much, if you've tried my Cheesey Pasta recipe - think that with vegetables. Mmmm!
It's so simple, feeds a family, and it's healthy. Perfect meal, huh?
Okay, here we go:
Ingredients:
1tbsp Butter
4 tbsp Plain Flour
As much Cheese as you want
Semi-Skimmed Milk - probably at least 300ml. You'll see why in a bit...
Vegetables - I chose broccoli, peas and carrots for my mixture. Add mushrooms, onions, green beans, potato if you want... It's whatever you fancy - veggies are good for you, go crazy with them.
125g Macaroni Pasta
Half a slice of wholemeal bread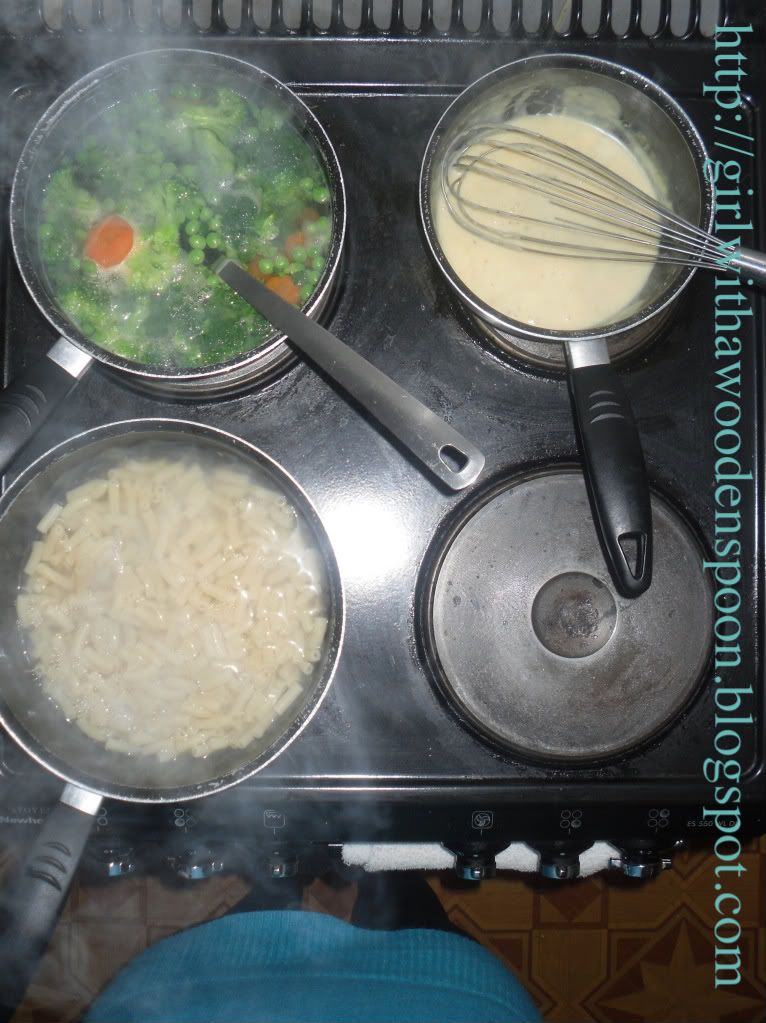 Method:
1) Get 3 saucepans. As per my photo, use one for the Cheese Sauce, one for the Veggies, and one for the Macaroni. Get the kettle going for some water to boil the veg and pasta. Get these going as soon as possible.
2) Meanwhile, melt your butter in your remaining pan, and mix in the flour until you get a doughy mixture.
3) Gradually add small dashes of milk to your dough, mixing the entire time. You don't want dough to stick to the bottom of the pan. Keep doing this, gradually adding milk, until you get a creamy consistency like you would a carbonara sauce. Add in the cheese 'til it melts into the sauce. Hey ho - you've made a Cheese Sauce via the Roux method! Go you!
4) Okay, your sauce is ready. Your veg and pasta most probably is, too, by this point. Remember, if you can run a knife smoothly through the boiling items, it's ready to eat. Drain your veg and pasta.
5) In your largest saucepan, add the pasta, the veg and the cheese sauce altogether. Get a large oven-proof dish and pour your concoction into the dish, spreading evenly.
5) Whizz your bread in a food processor for a few seconds until you have breadcrumbs. Sprinkle these evenly over the pasta/veg/sauce mush.
6) Chuck the whole lot under your grill for 3-5 minutes until the breadcrumbs are golden.
7) Voila! Serve, enjoy, and tell your friends :)
Kirsten x