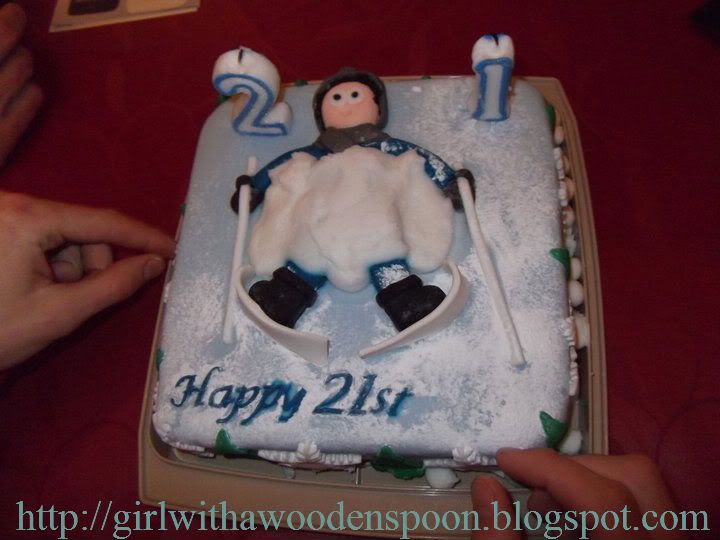 Ahh, we're back to one of the first cakes I ever made! But I said I'd discuss each cake, including the ones I really buggered up. This one, I did just that! So I've made up my own version of 'pros and cons' that I can look back on and review!
Here's what happened: One of my best friends, Hannah, was going away skiing with her boyfriend and his family and while they were out there it was her beau's 21st birthday... So she asked me to make a cake for him and yes - she took it all the way to the Alps (or wherever it was, I can't remember now!) She definitely crossed country borders, though. Cool huh? My cake went international!
Trying to remember now, I believe this was a vanilla sponge cake with jam and vanilla buttercream filling. The design was Hannah's idea, and to be honest I was pretty pleased with my first attempt at creating a sugarcraft person!
Icing on the Top:
The base of the cake was relatively perfect, a gorgeous icy blue colour with cut-out snowflakes and trees lining the sides.
It was the first go at using rolled-up balls of icing to also line the sides. This just tidied everything up a bit and also looked like snowballs!
The ski man was really cute and entirely edible! I created him by shaping an oblong piece of blue icing into arms and legs and a body, then adding on the head and additional pieces of clothing.
Burnt Bits:
I should've used royal icing for the snow splat on my little ski man. Instead, I used glace icing and it just wasn't the right consistency - it was too runny and absorbed all of the icing sugar 'snow' I sprinkled over him.
I really should've thought about what I wanted for the personalised message. This cake was actually presented on a silver cake board and 'Birthday' was stencilled onto the board rather than the cake as you can see I ran out of space! Looking back, I could have just stencilled out his name - 'Mark' - which would have fitted perfectly... Arrghh!
Unfortunately, Hannah and Mark's mum wanted to transport the cake discreetly and the big cake box it came in was just too recognisable amongst their ski gear in the boot of their car. So they removed the cake from the board (ahhhh!!) and popped it in their own tupperware box, and only managed to salvage a handful of the snowballs that were stuck to the board.
Finally, when using the shoddy alphabet stencils (they're called Tap-it's - don't use them!!!) I bought (I'm on my third set of them, they're not cheap either, but when you 'tap' them, not only do your letters pop out, but half of the stencil does, too. I use silicone ones now that you can tease out and they're soooo much better) they get covered a bit in icing sugar from where you've rolled them out. To get rid of the icing sugar blemishes on the letters, I used edible glue rather than a dab of water, and not only did the 'snow' sprinkles again get absorbed by the glue, but it never dried and gave a blotchy, wet look to the letters.
You can imagine by the time Mark got his cake he was probably looking at it a bit oddly. Of course, it's not Hannah's fault that she had to move the cake from it's original location but the end result was a bit naff thanks to my mistakes. Also, when I delivered the cake I realised that I hadn't remembered to put my memory card in my camera so didn't have any pictures of what it looked like as I left it. These are Hannah's pictures which she kindly sent me!
Sorry Mark, hope you had a good birthday. You were skiing afterall...!
Happy Baking x