Last year I had a disaster when it came to red velvet cupcakes. They were taking the USA by storm, and Brooke Davis wanted them for her wedding cupcake tower - so they
must
be yummy! However, the recipe isn't your usual vanilla-sponge-dyed-red cupcake, oh-ho-ho no! The 'velvet' comes from using buttermilk, which has a creamy consistency that gives the cupcakes a velvetty texture. They also have cocoa in, but it doesn't give a major chocolatey experience. It's more like when you have chocolate marble cake, and you like the taste, but can't really taste the difference between the chocolate and vanilla sections. I came across numerous recipes, all differing slightly from the previous, so I just took the easiest one I came across - YUK! They were like savoury bits of off-colour brown cupcakes. They went straight in the bin.
So I did a bit more research this year: typing "best red velvet cupcake recipe EVER!" into Google helped. Forgive me, I can't remember the website I got it from, but I have altered it slightly anywho - so no copyright troubles :)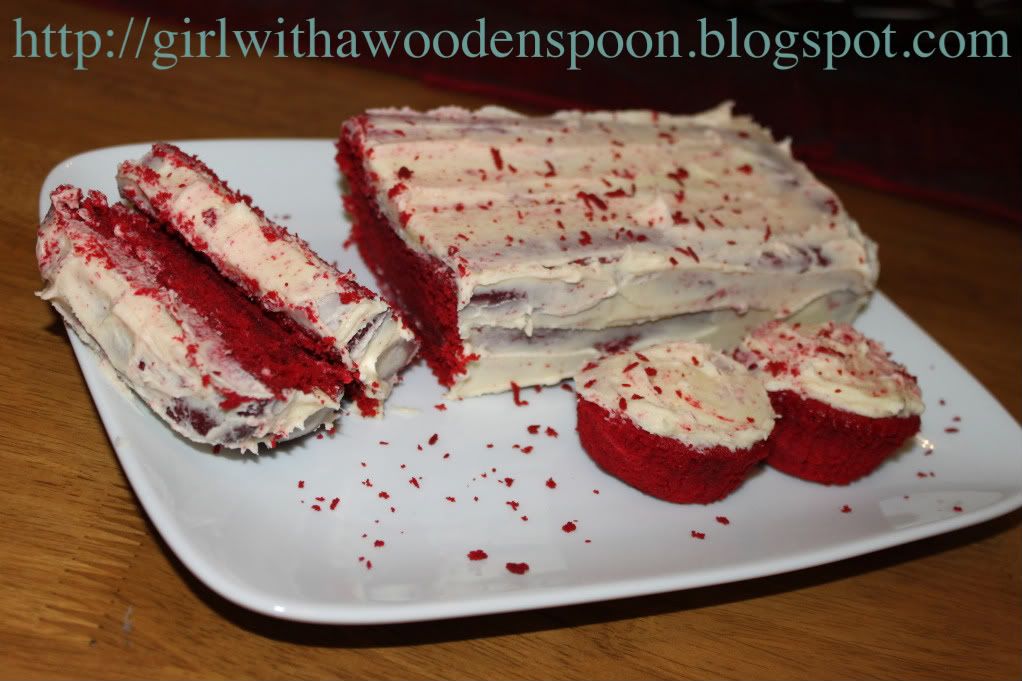 Ingredients:
- 500g Plain Flour
- 165g Butter
- 500g Sugar
- 3 Eggs
- 6 tbsp Red Food Colouring (Or just use a whole bottle of SILVER SPOON colouring, NOT Dr Oetker. They come out orange!)
- 2 tbsp Cocoa Powder
- 1.5 tsp Vanilla Essence
- 1.5 tsp Salt
- 330ml Buttermilk (You find this alongside the cream in the supermarket - do NOT use regular milk!)
- 1.5 tsp Vinegar
- 1.5 tsp Baking Powder
Method:
1) In a large bowl, whisk the butter on it's own. Gradually add in the sugar and continue whisking.
2) Add the eggs, one at a time - continue to whisk.
3) In a separate small bowl, mix the cocoa, red food colouring and vanilla together. Add to the batter.
4) In another bowl, mix the salt with the buttermilk. Gradually add to the batter, alternating with the flour in three's.
5) In your final bowl (sorry, lot's of washing up!) mix the baking powder and vinegar until it fizzes. Finally add this to your batter.
6) Separate into baking cases to just over half full and bake for 25 minutes. Cool on a wire rack and swirl on your choice of buttercream or cream cheese frosting and decorate!
I had a load of mixture left over, and couldn't be bothered to use up any more bun cases, so I just bunged it into a loaf tin! I'm not the biggest fan of cream cheese frosting - the red velvet cake I had in New York had meringue frosting... I think! - so I decorated mine with vanilla buttercream and the crumbs from the loaf tin. I never really intended on blogging this baking experience but because I was so pleased with the taste (not my finest presentation moment!) I thought I best share with you guys!
P.s Supermarkets are cottoning on to this trend, too. Don't try Morrisons Red Velvet cupcakes, the buttcream is ROCK hard and the sponge is dire. Tesco have their own variation, which they describe as 'chocolate cupcakes with a chocolate-filled centre', but I have yet to try them!
Are you from the US? Do you have a particular Red Velvet recipe you can pass on to us across the pond?? Comment below!
Happy Baking! x