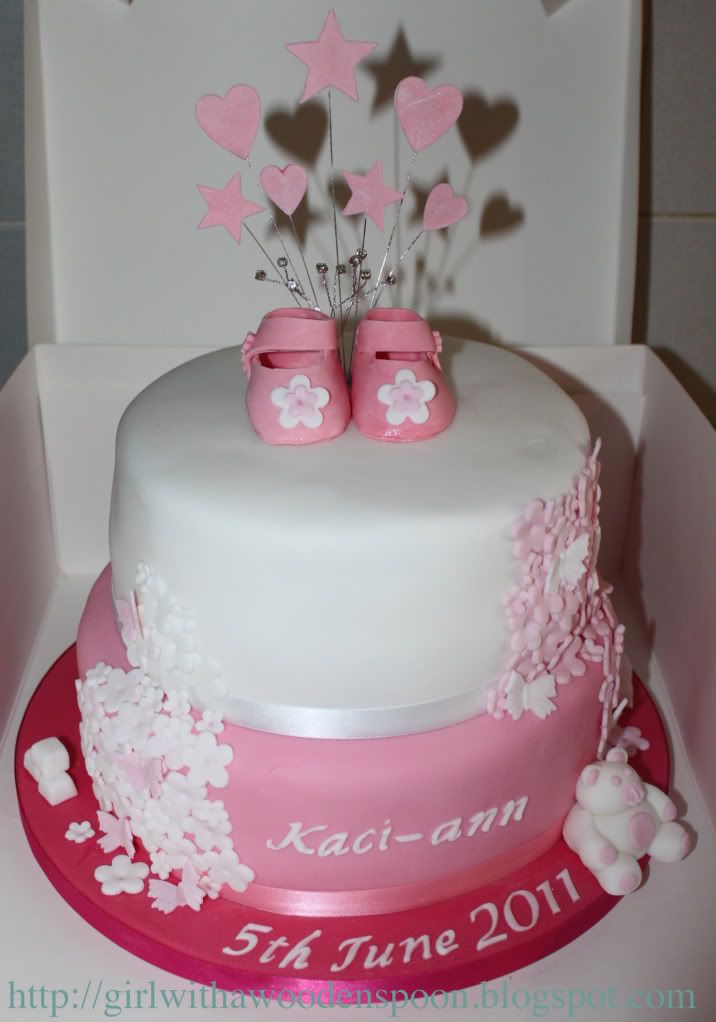 This is my favourite cake I've ever made. 
And also, it's the first I've made for someone I've never met! They found me on my Cakes by Kirsten facebook page, and requested this modern girly christening for her daughter - no frills, no cutesey additions, just girly and pretty.
So I asked her what she'd like - bows? Booties? Butterflies? Blossoms? Check to all the above! And then she saw the
Anniversary cake
I'd done last year with the wire and icing decoration, and added that, too! She asked for it to be baby pink on the bottom layer, and white on top. I suggested we cover the cake board in a gorgeous fuschia colour, so the colour graduated down the entire piece, which she was happy with.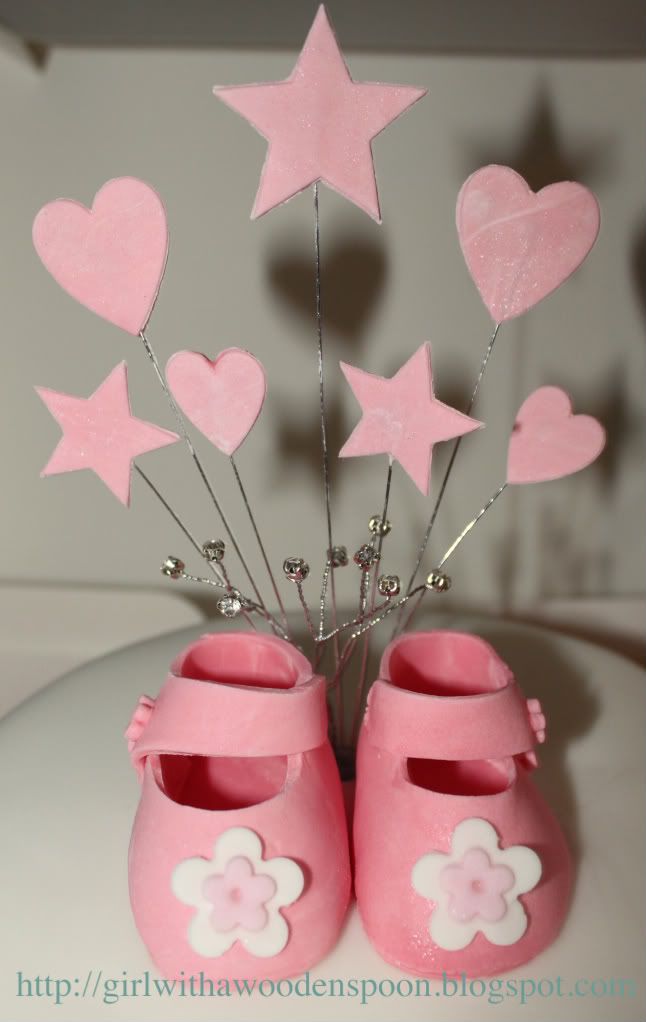 I hand-made these baby booties out of flower paste, which is a strong version of sugarpaste. After attempting to use the latter first, the booties just fell in on themselves and held no shape at all. Flower paste is a little more pricey - about £4 a pot - but it was worth it when I shaped the booties and they actually stayed up! I did mess up a bit though, the stencil I copied off I used the wrong way round, and the bootie strap fastened in on itself, instead of sitting pretty on the outside. To rectify this, I added stamped-out mini blossoms and affixed them to the side of the booties to look like buttons :)
The blossom cascade down the sides of the cake worked extremely well, in my opinion. I think they're really effective and are useful if you need to cover up any mistakes (mistakes? What mistakes?!) The teddy bear took no time at all, and was made out of sugarpaste. I think if you're keen on cake decorating, it's really worth investing in the equipment that's available to you. I bought a trio set of blossom and butterfly stampers, and it just takes so much time off your hands. Don't be ashamed to say you used them, all the best cake makers do!
Kaci-Ann's mum was really pleased with the cake, and told me later that all the guests agreed with her. I left some business cards with her, too, so hopefully I'll get a bit more business!
Anywho, I'm going to try some Red Velvet Cupcakes now - watch this space :)
Happy Baking! x