I'm a bit late on my Valentine's post, sorry folks! But here's the cake I made for my other (not better, mwahaha) half since I'm a little skint these days (blame the holiday in NYC I just booked...!)... I received a sweet little silicone heart-shaped cake mould for christmas and I've been dying to put it to good use, so I googled for inspiration for a V-Day cake. Heart cakes aren't uncommon, but boy is there little imagination used! I saw one designed like this one, where the cake acts as an imitation chocolate box, and then added in a few Milk Tray choccies on top :) All of his family and friends were so amazed by it, to quote his mother "You clever girl, this cake is so beautiful. It'll be hard to beat...I've tasted this perfect perfect cake and it really is soooo perfect!" :P I think I need to set up a testimonials part of my blog haha!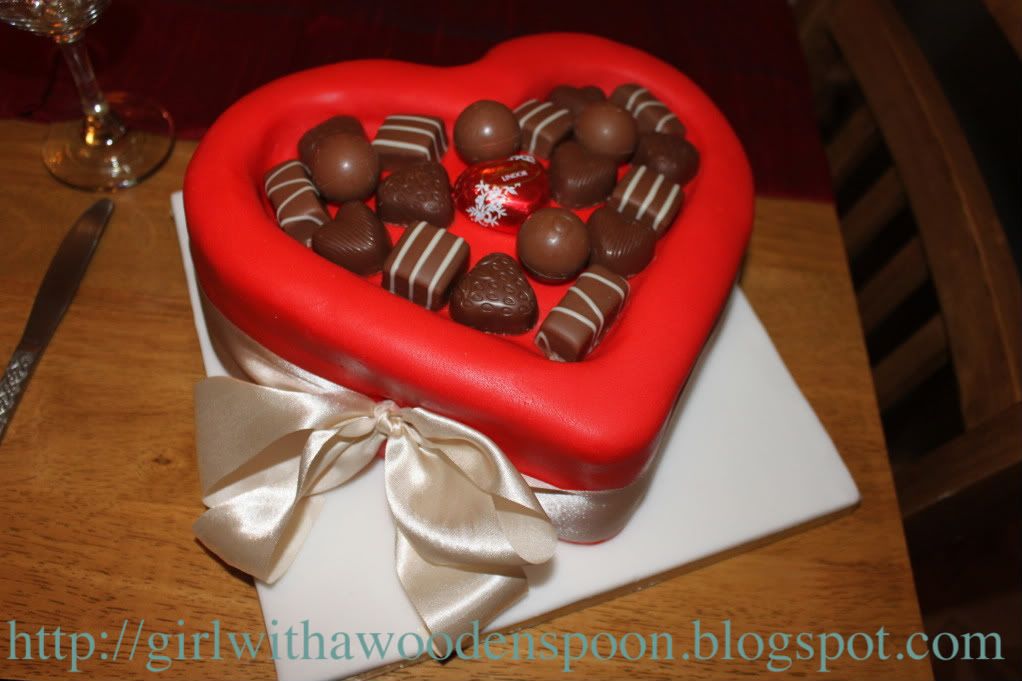 What I'd like to mention about this cake task was the use of silicone moulds... HOW effective are they?!!? If you've never used one, buy one. There's no need for greasing and papering the cake mould, as you literally just turn it out of the mould. They're amazing, can't wait to make another one!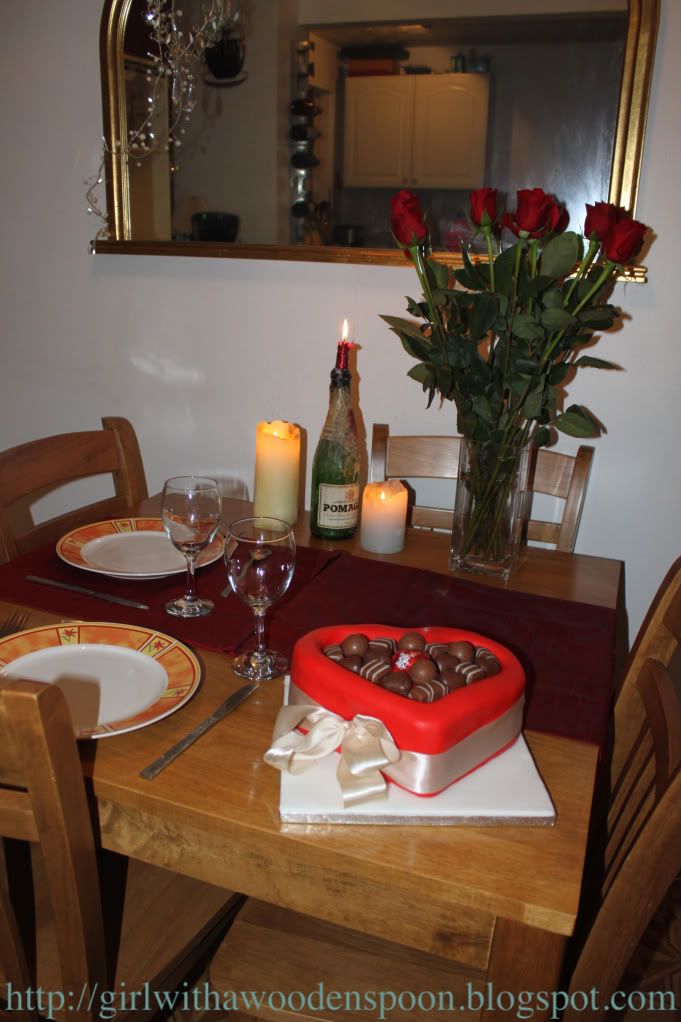 My Valentine's Day: The bottle with the candle in is the bottle of champagne my parent's drank at their wedding. Who say's romance is dead?
In reference to Valentine's Day, I'd like to have my own little rant. I think this year I've come across more "Ugghh I don't do V.D, it's so commercialised..." than soppy stuff and I felt really disheartened by it all. Personally, I love V.D. Jim and I have never gone completely all out for it, this year we stayed in with a rack of lamb and Sherlock Holmes, but it was still lovely to spend that day together celebrating how much we're in love. Yes, you can do that any day of the year, I know that. It's not like the words "I love you" are off-limits for the rest of the year. But I love the flowers everywhere, the candles, the cutesy presents and of course the chocolates. I'm not saying I'm materialistic, I just think it's a sweet day and everyone's all smiley. I saw a guy walk out of a jewellery store a few days before, and he had the biggest grin on his face and a tiny bag in his hand... I bet he was proposing and made someone a very happy and lucky lady. Anyway, I like the day. Some people haven't even been together long enough to celebrate an anniversary or whatever, so V.D is also a way for those people to have a special day, too. Before I met Jim, my best friend and I used to send each other Valentine's cards, just as a little reminder that we were there for each other. Rant over.
Happy Baking x